Trump Says Protests at University of Missouri Are "Disgusting," School Officials "Weak"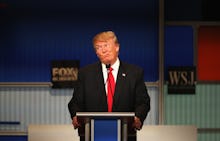 Real estate mogul and Republican presidential hopeful came out swinging against the protests enveloping the University of Missouri Thursday in an interview with Fox Business Network's Maria Bartiromo. Trump said the situation at Mizzou, in which increased racial tensions have spurred protests across the school's Columbia campus, was "disgusting," describing officials who resigned since students demanded their immediate leave as "weak, ineffective people."
"I think it's disgusting. I think it's disgusting," Trump told Bartiromo Thursday morning. 
Trump also discussed the eight demands University of Missouri student group Concerned Student 1950 published in an effort to promote diversity efforts and further inclusion in the state school: one of those being an immediate resignation from University system president Timothy Wolfe, who announced Monday he would step down from his position.
"Maria, did you look at their demands? Their demands are like, crazy! The things that they're asking for, many of those things are, like, crazy! So, it is just disgraceful," Trump told Bartiromo. 
University of Missouri has been in a state of turmoil in recent weeks amid increased racial tension and following frustrations and protests. After students posted a series of threatening messages across social media, with at least some of those being racially charged, the campus rallied for a swift and bold response from campus officials. One student went on a hunger strike, while members of the school's football program refused to attend any practices or games until the president resigned for what they felt was a failure to handle the university's racial conflicts appropriately in a timely matter. 
The school's chancellor announced Tuesday he would step down at the end of the year after the university's system president announced his resignation, a move Trump said would set the school up for disaster. "I think the two people that resigned are weak, ineffective people," Trump told Bartiromo Tuesday. 
"I think that when they resigned," Trump told Bartiromo, "they set something in motion that's gonna be a disaster for the next long period of time."
Update: Nov. 12, 2015, 12:17 p.m.: This article has been updated to reflect the exact wording of Donald Trump's quotes.