BBC One Children in Need Marathon 2015: Time, Guests and How to Donate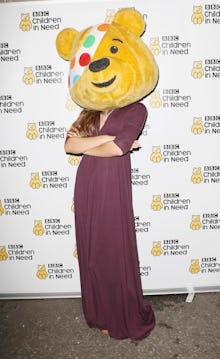 The BBC corporate charity Children in Need will host its annual televised fundraising event, now in its 35th year, on Friday, Nov. 13. The all-night charity extravaganza will air on BBC One in three parts, with the core block of performances scheduled to kick off at 7:30 GMT (2:30 p.m. Eastern).
The night's programming will continue following the appeals show with an after-hours special starting at 10:40 p.m. GMT (5:40 p.m. Eastern). In the lead up, BBC One will host The One Show's Children in Need Special from 7 to 7:30 p.m. GMT (2 to 2:30 p.m Eastern).
Viewers have a few options for ways to contribute, the Telegraph reports. Texting the word "PADDLE," in all caps, to 70701, "DONATE" to 70705 or "DONATE" to 70710, generates a donation of 1, 5 and 10 British pounds, respectively (about $1.50, $7.60 and $15.20). Standard texting fees apply to those donations, plus 1 pound (about $1.50). Children in Need also accepts PayPal donations via the fundraising hub on its homepage. 
This year's appeal show comes fully loaded with A-listers. English actor and comedian Shane Richie will emcee the night, which includes music from Ellie Goulding, Rod Stewart and Selena Gomez, a performance from comedian Harry Hill and appearances from the cast of BBC's hit show Call the Midwife. Here's the full list of scheduled appearances.
The official song of this year's event is "Take Me Home" by English singer-songwriter Jess Glynne.
According to the BBC, 100% of the gifts and donations raised during the event will go toward helping disadvantaged children in the U.K. "We are able to make this promise because we use investment income and gift aid to cover all running costs, meaning that you can be sure your money makes a real difference," the network's website reads. 
Last year, the fundraiser pulled in 49.1 million British pounds (about $75 million), according to theTelegraph. 
Update: Nov. 12, 2015, 1:59 p.m.: This article has been updated.