Taylor Swift Lawsuit Dismissed: Judge Uses the Artist's Lyrics to Shake Off Accusations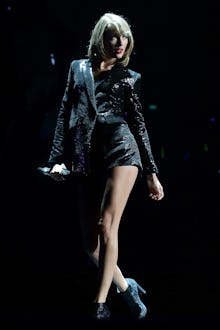 On Tuesday, a court rejected a lawsuit against Taylor Swift for allegedly copying the lyrics for "Shake It Off" from a lesser-known artist — and likely due to the questionable nature of the suit, the judge explained the dismissal with the most fitting Swift lyrics. 
"At least for the moment, defendants have shaken off this lawsuit," United States District Court Judge Gail Standish wrote in her dismissal, quoting the song in question. On Nov. 2, R&B artist Jesse Braham (who goes by the reach of a stage name Jesse Graham) filed a lawsuit against Swift, CNN reports, claiming the single off her 2014 album, 1989, contains a 22-word phrase lifted from Braham's 2013 track "Haters Gone Hate."
The lyrics on the hot seat?
 "Cause the players gonna play, play, play, play, play/ And the haters gonna hate, hate, hate, hate, hate/... And the fakers gonna fake, fake, fake, fake, fake."
And, from "Haters Gone Hate":
"Haters gone hate, playas gone play. Watch out for them fakers, they'll fake you everyday."
Music fans can draw their own conclusions about the viability of the claim, but Braham was convinced that a breach existed, suing for $42 million in damages and songwriter credit, CNN reports.
"As currently drafted, the complaint has a blank space — one that requires Braham to do more than write his name," Standish wrote in the order, referencing Swift's second single off the album. 
In the statement's dramatic denouement, Standish concluded her masterpiece with a reference to Swift's "Bad Blood."
"Braham may discover that mere pleading Band-Aids will not fix the bullet holes in his case," she wrote.
The suit was dismissed for lack of evidence, but left the door open for a future suit should that Braham strengthen the holes in his claim.
Before Braham or Swift penned their respective songs, the former girl group 3LW released "Playas Gon' Play" in 2001. Notably, the song also makes the point that "haters gon' hate."
Here's the throwback jam:
Correction: Nov. 12, 2015