Hip-Hop Legends Make a Bold Case for the Genre's Potential to Change American Education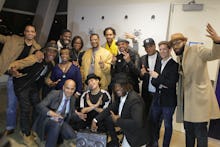 "Hip-hop is the one vehicle that should be a Rolls-Royce," said Abiodun Oyewole of the Last Poets, widely regarded as the world's first hip-hop group, to an audience of artists, activists and educators at the Hip-Hop Education Center's first annual Extra Credit Awards Wednesday night. "Everybody should be able to use it to raise levels consciousness and set their values and to give humanity a serious boost. We need to stop the bullshit and deal with some real shit."
The words set the tone for the evening's event, which gathered together several of the genre's founding fathers and mothers to argue for hip-hop's power to uplift in the classroom. Hosted by best-selling author, artist, professor and filmmaker MK Asante, the Extra Credit Awards honored individuals who have found creative ways to use the tools of hip-hop to enrich their curriculums and provide resources to help young people succeed. 
A cadre of New York hip-hop icons were in attendance, including members of the Universal Zulu Nation, Fab 5 Freddy, Rhymefest, DJ Spooky, choreographer Rosie Perez, Ma Dukes and DJ Marley Marl.
"I never thought hip-hop would be like this," Marley Marl told Mic, nodding to the room. "I always thought it was just something we did as fad, but look what it turned to. It's part of American history. It's part of world history."
Acknowledging this cultural and historical significance on a national and institutional level was the perhaps-urgent thrust of the Hip-Hop Education Center's event. It marked the launch of a petition aimed to get President Barack Obama to recognize hip-hop culture as being worthy of being "taught and practiced in all K-12 public schools" and "canonized" in the same way jazz is. The national and local programs the event highlight gave a glimpse at the sweeping impact this mission could have.
The Hip-Hop Education Center's founder, director and curator, Martha Diaz, learned the power of hip-hop at a young age. She sees it as a powerful tool to uplift the next generation. 
"As a first-generation Colombian-America born in the U.S., I had no family; I was a very quiet, shy child," Diaz told Mic. "I couldn't articulate. And when I discovered hip-hop, I discovered a whole other way of expressing myself. I found my voice; I found my identity; I found a family I didn't have. It politicized me and created this leader I am today."
"I wanted to share this with others for all those young people who are struggling, who feel lonely, who feel like nobody cares," she said. "This is a safe place to develop ourselves, and it fits in the classroom. We will create geniuses."
Many of the honorees spoke to the power of hip-hop in the classroom, including Christopher Emdin, who created Science Genius BATTLES with the help of Wu-Tang Clan's GZA, and David T. Ellis, rapper and founder of High School for Recording Arts in St. Paul, Minnesota. 
"When you use hip-hop in the classroom the engagement is crazy," Asante told Mic. "It's a powerful tool for retention. It's always been edutainment, like the KRS-One album. Even when you don't know you were learning, your subconsciously you're getting double entendres and metaphors; you're also being introduced to people, historic figures: Napoleon [Bonaparte], Assata Shakur, whoever's being spoken about."
The event also highlighted the work Tomás Alvarez III and Rob Jackson are doing with Beats, Rhymes and Life, a hip-hop therapy program designed to "shift how mental health services are developed, funded and administered to diverse youth populations," according to the program's website. 
Grammy award-winning artist and philanthropist Che "Rhymefest" Smith earned the night's Courage Award for his work as the creative director and co-founder (alongside Kanye West) of Donda's House. The group provides youth in Chicago with access to premium arts instruction, aiming to develop artists who see hip-hop as more than a way to accrue celebrity. 
"One of the things we say at Donda's House is, 'Be of service, not self-serving,'" Smith told Mic. "If you come to Donda's House because you're trying to be famous, we tell you up front, 'This is the wrong place for you.' We are anti-fame. The first thing we ask young people who rap or sing is we say, 'What else you do? Because that's not enough. What are you selling? And how do we use your art with the ideas you're selling to create a movement for change?'"
This idea of hip-hop as a vehicle for much greater cultural change was present in every speech, every anecdote shared onstage. It's an impression by anyone who's ever ruminated on the truths related in verse far after the beat stops, or anyone who believes that hip-hop saved their life.
Diaz is confident the Hip-Hop Education Center's petition will find its audience. "Because this is an election year, we have to do it now," she told Mic.
When asked if she sees the 2016 presidential candidates as being open to the center's aims, she shook her head and smiled. "I don't care," she said. "They have to listen to us. In the same way this generation elected President Obama, we can elect the next candidate. They should pay attention. It doesn't matter their opinion or what they don't know about hip-hop. We're willing to educate, but we want to be at the table."