Amazon Embraces Diverse Models for Its Beautiful "I Wish I Could Wear..." Campaign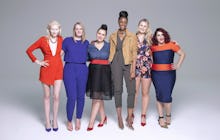 When it comes to getting dressed in the morning, women can be their own worst enemies. We worry about our weight, our height, even whether our skin has a sun-kissed glow. As a result of our insecurities, we limit our own clothing options, resulting in us constantly using the phrase: "I wish I could wear..." 
Amazon Fashion Europe, Amazon's overseas arm of its fashion site, is addressing that sentiment head-on. In a new video campaign, "I Wish I Could Wear," the online retailer is sending a clear message: Women should be able to wear whatever the eff they want. 
Launched in the United Kingdom on Thursday, the videos feature three women who have shared their frustrations with their bodies on social media.
"I wish I could wear trendy clothes without looking like I'm pregnant," says one woman in an voiceover.
"I wish I could wear high heels and not worry about my height," says another.
"I wish I could wear bright colors without having to cover myself in fake tan," says the last voice.
The video then shows three awesome women —  Ingrid, a model with albinism; Ana, an activist for #PlusisEqual; and Marsha, the blogger behind London Tall Girl — reaching out to the women who complained about their bodies on Twitter. Ingrid, Ana and Marsha then help the women kick their "wishes" to the curb by selecting great new outfits for them.
"We created this campaign with the hope that it would help to empower women to wear what they like and not feel limited by their perceived flaws," Siobhan Mallen, the content director at Amazon Fashion, said in a statement to Mic. "It was important for us to involve Ingrid, Ana and Marsha – three strong and stylish women who dress for themselves and celebrate what makes them different."
Solving body insecurity issues isn't always as simple as trying on an outfit. But deciding that you can own the body you have, rather than trying to adhere to unrealistic body standards, can be liberating. 
It's the sentiment behind body-positive movements from plus-size bloggers, like #RocktheCrop. And it's what Amazon Fashion is going for with this campaign's tagline, "Don't look like me, look like you."
We couldn't have said it better.