Cynthia Nixon Talks 'Sex and the City' and Why Miranda Didn't Want to "Have It All"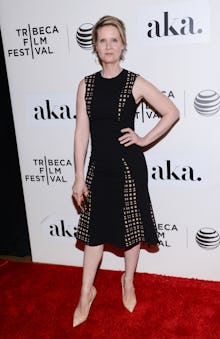 Sex and the City has been off the air for 11 years, yet it's never quite left the zeitgeist. Thanks to two film adaptations — and constant rumors about a third — Carrie Bradshaw (Sarah Jessica Parker) and her cadre of best friends remain cultural fixtures. 
At the time, it was easy to be most attracted to Samantha Jones (Kim Cattrall) for her hyper-sex-positive attitudes or fascinated by the incredibly traditional Charlotte York (Kristin Davis). In 2015, however, one of the women feels even more relevant now: Miranda Hobbes, as portrayed by Cynthia Nixon.
From a contemporary perspective, Miranda embodies a lot of feminist ideals. She put her career first. She was both sex-positive and had no desire to have children. On the surface, she seemingly had it all. But Nixon herself says having it all was never Miranda's goal at all. She didn't want the family.
"Miranda was trying to have a career and sex," Nixon told Mic in an interview for her new film James White. "In terms of more traditional, feminine goals like motherhood and marriage, that wasn't so much on Miranda's radar."
Instead, she found herself with a child and later a husband, thanks to sex with her ex, Steve (David Eigenberg), that produced an unplanned pregnancy. 
"It's not so much that she had it all and had to balance them," Nixon said. "For her, the career was so much out in front of motherhood and wifehood that she wasn't even necessarily planning on the last two."
As for the endurance of Sex and the City itself, Nixon told Mic the key to the show's longevity was the character development of the women themselves — and that they were shown aging into their 40s naturally. 
"At the time, we seemed to ourselves to be mature women," she said. "People were noting at the time that we weren't 22 or 19. I think the fact that, as the actors and characters have aged, people remain interested is one of the things that Sex and the City was able to do."
Instead of turning away and focusing on younger girls, Sex and the City remained committed to showing what Nixon and her castmates saw as "mature women" in a realistic-yet-sexy light. It's something not found in many modern TV shows. It's a shame; it takes away some of the most interesting stories from TV.
"When a woman gets married and has a child, her story doesn't stop being interesting," Nixon said. "When she ages past 35, she doesn't stop being sexual or sexy."