Howard University Increases Security After Anonymous Racist Threat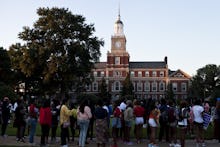 Howard University increased security on its Washington, D.C., campus on Thursday after an unidentified person posted a racist and threatening letter to Internet forum 4chan on Wednesday night.
The post's author claimed to be a University of Missouri student from Maryland who was furious with demonstrations over racial justice at college campuses — think: Smith College (Mass.) and Ithaca College (N.Y.).
An image of the post, in which a direct threat is made against any black person still on the Howard campus "after 10" on Thursday, was shared to Twitter. 
"I left MU yesterday because I couldn't put up with it anymore," reads the anonymous letter. "I go home to MD and what do I see? The same old shit. Turn on the news and it's always the niggers causing trouble everywhere. So I've decided. Any niggers left at Howard University after 10 tomorrow will be the first to go."
"After all," the letter concludes, "it's not murder if they're black."
In an email to the Washingtonian, FBI spokesman Andrew Ames said the bureau was investigating the incident. "We are aware of the online threat and have made appropriate notifications," Ames wrote. "We urge anyone who has information about the threat to contact the Metropolitan Police Department or the FBI."
Howard leadership has also reached out to students to address the threat.
"We are aware of the threat made against the university and its students and are working with campus, local and federal law enforcement on this serious matter," said Howard University president Wayne A. I. Frederick, in a statement emailed to students and posted to Twitter and the school's website, WNEW reports. 
"This is an ongoing investigation," Frederick's statement reads. "However, in an abundance of caution, the university has increased security on campus and at area metro stations. We strongly encourage the campus community and our neighbors to stay vigilant and to report any suspicious activity."
It didn't take long before Twitter got wind of the threat; many reached out to the Howard community, using the hashtag #HUstrong. Among the supporters was Jonathan Butler, the University of Missouri graduate student who went on a hunger strike to protest his own school's handling of on-campus racism.
For those in the vicinity of the Howard campus who see anything suspicious, Frederick recommends contacting the Howard University Department of Public Safety (202-806-1100) or the District of Columbia Metro Police Department (202-727-9099).