Missy Elliott "WTF" Music Video Reminds the Internet Who the Queen of Hip-Hop Truly Is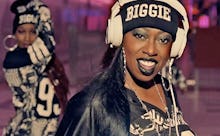 Fans has been patiently awaiting the return of hip-hop queen Missy Elliott since her last music video release seven years ago. So, when the hip-hop artist dropped a music video and single titled "WTF (Where They From)" featuring Pharrell Williams on Thursday, Twitter was sent into a frenzy, and the world wide web had life breathed back into it once more.
"WTF (Where They From)" was posted to Atlantic Records' YouTube and became available for streaming via Apple Music and Spotify Thursday. 
"We as human beings are just not worthy of Missy Elliott and every day we get to walk this Earth with her is a blessing," one Twitter user by the name of Allison Hussey wrote on Twitter, summing up the Internet's fascination with the new music video.
"WTF" is the first single from Elliott in three years, which caused some social media users to reflect on their lives as Elliott fans throughout history:
While others had their faith restored in mainstream music:
And the rest of the world was left in awe by the video, realizing that one thing is now absolutely official: Missy's back: