This Actress Cut Her Hair to Prove That Girls With Short Hair Can Be Princesses Too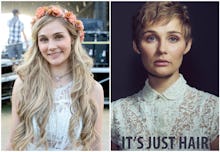 Actress Clare Bowen is known for playing Scarlett O'Connor on ABC's Nashville, a headstrong singer-songwriter on the rise with a signature head of voluminous blonde curls. But in real life, Bowen has a different story to tell. 
On Wednesday, Bowen debuted a new look on Facebook: a short pixie cut trimmed to the nape of her neck. Dramatic hair cuts for actresses on network television usually makes headlines, but in a wonderful twist, Bowen has turned her new look into a message about the beauty of short hair.
Below the image, Bowen tells her fans a story few of them know. When she was 4 years old, she was diagnosed with "end stage nephroblastoma" and given the option to try a new experimental treatment or survive for just two more weeks. 
Her parents opted for the treatment, which meant Bowen had to spend weeks and weeks in what she called "the White Palace," otherwise known as a hospital. While there, Bowen was surrounded by other young children like her, most with little to no hair on their heads. 
"But we were all together, so no one's appearance came into question," Bowen wrote. "No one got laughed at or teased. We were all we knew." 
Bowen eventually got better, and all her hair grew back. But recently, she heard the story of a little girl who said that she couldn't possibly ever be a princess because she didn't have long hair. So Bowen decided to show her that the length of one's hair doesn't determine a woman's beauty at all.
"I wanted her, and others like her to know that's not what makes a princess, or a warrior, or a superhero," Bowen wrote. "It's not what makes you beautiful either. It's your insides that count... even if you happen to be missing half of them."
Just earlier this year, the illustrator the Nameless Doll seconded that idea, with a series of images portraying all your favorite Disney princesses with shorter locks. 
"I have had to explain to crying children way too many times that they do not need long straight hair in order to be beautiful princesses," Roosa Karlsson, the woman behind the Nameless Doll, told Mic at the time. "Focusing on showing only one kind of beauty can be damaging."
And lest it only be princesses, both primetime and Disney, who get to experiment with short hair, actress Kristen Stewart defended short hair earlier this year to Marie Claire, saying, "My hair was such a crutch. I looked quote unquote 'sexy' no matter what. I could hide behind it. As soon as I didn't have all that hair, I had to let my face hang out. I felt more confident than I had in a really long time." 
That's the exact attitude Bowen wants to pass onto her fans. 
h/t Refinery29