Arizona Marijuana Legalization 2016: Latest on Ballot Initiative to Legalize Pot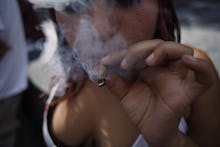 An initiative to legalize recreational marijuana in Arizona needs over 150,000 signatures by July 7 to earn it a spot on the ballot in 2016 — and it's already received roughly two-thirds of those signatures since the state approved the petition for signature gathering in April, according to a press release from Campaign to Regulate Marijuana Like Alcohol in Arizona, the group behind the measure. 
Marijuana advocates have collected about 100,000 of the needed 150,642 signatures to get legal weed on the the Election Day ballot in November 2016. The initiative, sponsored by the national pro-legalization group Marijuana Policy Project, seeks to tax and regulate marijuana in the state. Medical marijuana has been legal in the state since 2010. 
The campaign is confident. "We are well ahead of schedule to submit the 150,642 valid signatures required to the Secretary of State's office by July 7," campaign manager Adam Kinsey said in the press release. 
"We're meeting a lot of people [around the state] who are enthusiastic about removing prohibition," Carlos Alfaro, the campaign's political director, told Phoenix New Times on Monday.
At a press conference in August, campaign chairman J.P. Holyoak said the marijuana industry in Arizona could raise tax revenue by $40 million each year, an estimate he even called "conservative," the Arizona Republic reported. The campaign then presented a giant fake $40 million check during the conference, the Huffington Post reported.
Opponents, however, were skeptical. "The promises of benefits from recreational marijuana are as fake as the check they showed at their press conference today," Robert Graham, chairman of the Arizona Republican Party said in a statement following the August press conference.
The rules: The initiative's proposed regulations on cannabis are similar to those in Colorado and Washington where there's a market for legal weed, in that it would tax marijuana like it does alcohol. The revenue would fund the state's public education and public health systems. There are caps on how much marijuana an individual can use or possess, and the drug would be tested and clearly marked before being sold by licensed businesses. The drug would be prohibited to those under 21. 
The entire initiative is available to review here.