'Real Houswives' of Dallas and Potomac: Casting Info, Pictures, Season Premieres and More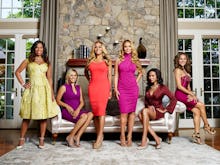 The Real Housewives TV series is expanding its number of cities to include Dallas and Potomac, Maryland, in an apparent effort to make every stay-at-home diva included in the 1% famous, and even more rich. Bravo announced Wednesday both shows are being added to the network's 2016 lineup of reality TV, with Real Housewives of Potomac expected to begin Jan 17. Although fans have yet to hear any details about the Housewives of Dallas, Potomac is gearing up to be quite the scandalous season.
"Located just up the river from our nation's capital of Washington, D.C., Potomac is a cozy, upscale enclave with gated mansions, rolling hills, and exclusive country clubs," Bravo wrote in an announcement published Wednesday. "Viewers will be introduced to the wealthy African-American families who have broken racial barriers and now reside in the sophisticated community."
The cast for the first season shot in Potomac, Maryland, will include Robyn Dixon, Karen Huger, Gizelle Bryant, Katie Rost, Ashley Darby, and Charrisse Jackson-Jordan, according to Bravo. "If you haven't heard of Potomac, that's fine, because that means we've done a great job of keeping it a nice, little secret," Bryant says in a trailer for the forthcoming season. TV personality Rost also adds, "If you don't behave yourself in Potomac, you might be asked to leave."
The Real Housewives follows the lives of mostly rich women — some who are actually housewives, others who are not — in places including New Jersey, Atlanta, Orange County, California, and Miami, among others. 
"The Real Housewives of Potomac is the show you never saw coming, and it's going to take everyone by surprise!" The Real Housewives executive producer and talk show host Andy Cohen said in a statement, according to US Weekly. "As for Real Housewives of Dallas, it's a natural extension of the franchise with a Southern twist that ya'll will enjoy."
Below are photos of The Real Housewives of Potomac:
Katie Rost
Robyn Dixon
Gizelle Bryant
Ashley Darby
Charrisse Jackson-Jordan
Karen Huger