7 Things to Say to Anyone Who Doesn't Get Why Missy Elliott Is the Queen of Hip-Hop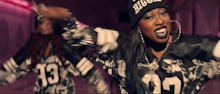 This Thursday, Missy Elliott broke the Internet by dropping her first single in 3 years, "WTF (Where They From)." Much of the internet erupted in uproarious applause; the rest, much like when Elliott played this year's Super Bowl halftime show, had nothing but question marks to show for themselves.
She's been gone for a minute, but Missy "Misdemeanor" Elliott is not a name that should be forgotten. Those who have been living funkless existences for the past two decades don't know what they're missing. Now, on the eve of Elliott's monumental return to pop culture, is the perfect time to educate them. Here are the points that need to be hit:
1. She's cut more hits than you have fingers
It's hard to pin down which is her most iconic, as each has something unique to offer. 2002's "Work It" was her highest charting song, hitting No. 2 on the Billboard charts. 2005's "Lose Control" is irresistibly danceable. The Ludacris-assisted "Gossip Folks" may have the catchiest hook that no one can actually sing or understand. "Get Ur Freak On" unites musical cultures separated by miles and miles of ocean, putting the Indian bhangra toward a deliciously illicit end. "The Rain" is simply classic.
2. She was a go-to hitmaker for much of '90s and '00s R&B
Aside from her own hits, Missy Elliott and her songwriting partner Timbaland wrote and produced hits for acts across the '90s and '00s, in the worlds of both pop and R&B. Missy's muses included Destiny's Child, TLC, Jazmine Sullivan and Ciara. Elliott and Timbaland helped launched Aliyah's career, writing the majority of her second album One in a Million and several of the singles that appeared on her Romeo Must Die soundtrack and self-titled third album.
3.  She expanded the roles women could play in hip-hop
When Missy Elliott was looking to make a name for herself in hip-hop, there were a limited number of roles music executives were willing to let women take. Those pretty much started and ended at highly sexualized eye candy. Missy Elliott did not have the body type executives thought would look good on a pin-up poster, and finding an early deal was hard. 
"They'd broken my heart," Elliott told the Guardian back in 2001. "They said I could sing, I could write, but that I looked wrong. That was the lowest thing you could say. I didn't forget." Eventually, thankfully, her talents became too important to deny. Labels came flocking, but she held out until she could strike out on her own. She made the right call.
4. She became first black female entertainment mogul
After scoring a No. 1 hit writing Aaliyah's "If Your Girl Only Knew," Elliot was approached by several labels. She held out until she was offered full creative control over her image and music — and the ability to sign other artists. With Elektra, she built The Goldmind Inc. and became the first "black female entertainment mogul." With that power, she bucked nearly every clause in hip-hop's status quo. She proved female artists could hit without showing skin and that all of hip-hop could do with a little more of an adventurous spirit.
5. She was a champion for female sex-positivity
Missy Elliott's music sought to shift the power dynamic. Instead of catering her depictions of romance to the male ear, she chose to confront it. She insisted on the women's right to orgasm in "One Minute Man." When one of them couldn't cut it, she rapped, "I gotta bag full of toys/ And I don't need none of your boys," as heard on "Toyz."  On "She's a Bitch," she reclaimed the titular word and turned it from a slur into an empowering moniker. Pretty much the entirety of her catalog encouraged women to set their own standards of beauty, while relying on themselves for economic and sexual satisfaction.
6. She encouraged hip-hop to get weird 
When Missy Elliott let these themes loose on the scene, she and her go-to producer, Timbaland, brought with them an entirely new sound that in turn broke hip-hop open. "She slowed down rap — she took chances," Jac Benson, a senior producer at MTV, told the New Yorker in 1997. "She opened the door for other sounds." 
The most prominent instruments in "The Rain" are a wobbling, Sly and the Family Stone-style bass and a field of crickets. As Elliot moved into more dance-focused tracks on her later albums, she kept her music stripped down to it's most essential funky core to create some disarmingly psychedelic hip-hop that the genre only now seems to be catching up to.
7. She raised the bar for hip-hop visuals
To make all her new instrumentals pop, Elliott went heavy on the visuals. She's crafted so many iconic visuals, beginning with "The Rain," in which she appeared dressed in a gigantic inflatable trash bag suit — a seeming mockery of all those who doubted she could make a hit without an hourglass body. 
Many of her videos took place in sci-fi fantasy realms, where hip-hop fashion and culture were the laws of the land. She dressed in iconic outfits — Gmail may have even copped its logo from the breast plate of robot suit in the "Sock It 2 Me" video. Her dancers always brought it; the little girl in the "Work It" video, Alyson Stoner, has become a sensation in her own right. "WTF (Where They From)" continues that tradition in a big way, with the Les Twins backing her up.