Jets vs. Bills Color Rush Uniforms Were Torture for Color-Blind Fans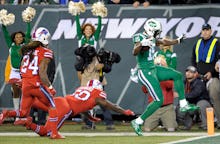 The Buffalo Bills vs. New York Jets Color Rush uniforms seemed like a good idea when the NFL decided to showcase them during Thursday nights matchup. However, color-blind fans probably ended up hating it. 
The jerseys, a new edition by Nike to no doubt increase jersey sales for the two AFC East teams, featured the Jets in a solid, bright green jersey, and the Bills in a solid bright blue uniform. Color-blind fans, which the National Eye Institute estimates affects 8% of men and 0.5% of women, were unable to distinguish who was who. For them the game looked like this: 
Color-blindness, as defined by color-matters.com, is the inability to distinguish the difference between colors. Colors most often problematic for those with the condition are red, green and blue. 
Color-blind Twitter users also let it be known that a game where you can't tell one team from the next, isn't the best NFL viewing experience. 
Colorblind Bowl 2015 was won by the Bills 22-17. The Bills defense and special teams unit forced four turnovers and moved into the AFC Wild Card race, improving their record to 5-4. The Jets continued their struggles dropping three of their last four and their division record to 1-2 this season.