When Is the Democratic Debate? Time and Full Live Stream Online Coverage Info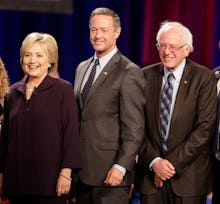 Vermont Sen. Bernie Sanders, former Secretary of State Hillary Clinton and former Maryland Gov. Martin O'Malley face off in round two of the 2015 Democratic presidential debates. This time the venue is Drake University in Des Moines, Iowa. Here's a complete look at the time, live stream coverage and more. 
According to CBS News, the debate host partnering with Twitter, which will provide real-time data and questions from users around the country. CBS' Face the Nation's John Dickerson, who will moderate the debate, told CBS News that he believes the "middle class squeeze" is the most important topic facing the election right now, so taxes and growing jobs could be among the hot topics for the candidates on Saturday night. 
Democratic debate time: The debate will take place Saturday. The top democratic nominees are expected to start at 9 p.m. Eastern, and the debate should run two hours. 
The host: CBS will air the live broadcast, moderated by Dickerson. 
How to live-stream the debate: Mic is an exclusive digital partner with CBS for the second democratic debate. You can watch full, live online coverage of the debate below.