Justin Bieber New Album 2015: Download Info, Best Lyrics and Complete Track List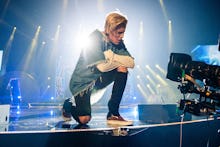 Canadian-born mega pop star Justin Bieber and overlord of the Beliebers released his fourth studio album, Purpose, on Friday. The long-awaited LP, which is the follow-up to 2012's Believe, is streaming on Spotify (log-in required) and is available for download via iTunes for $12.99. 
The record's deluxe version boasts 19 tracks, including the anthem "What Do You Mean?" which in September became the 23rd song in history to begin in the No. 1 spot on the Billboard Hot 100, as well as Bieber's first-ever single to reach the top slot. The album also features an acoustic version of the hit.
In the wake of its release, Bieber fans naturally wanted to know more about the single's meaning and flipped the track's core question on its singer. 
"You're so indecisive, what I'm saying/ Tryna' catch the beat, make up your heart/ Don't know if you're happy or complaining/ Don't want for us to end, where do I start?"
In an appearance on The Ellen DeGeneres Show, the host asked Bieber point-blank to share the meaning behind "What Do You Mean?" More specifically, DeGeneres wanted to know whether Bieber penned the track about his ex-girlfriend, American singer and actress Selena Gomez.
"I wrote the song for women in general," Bieber told DeGeneres, according to a clip on the show's channel. "I just never know what women are thinking 'cause they say one thing and they mean another thing and they're like, 'Do this,' and, 'Don't do this,' and I'm like, 'What do you mean?'" 
Not everyone was down with the "inscrutable women" theme. Back in August, Girls creator Lena Dunham hinted at the potential implications of the lyrics on Twitter:
But for the True Beliebers, here's the album in full, via Spotify:
To support his latest record, Bieber will embark on a world tour that kicks off on March 9 in Seattle. Here's a press release with tour dates and instructions on how to buy tickets. 
Track list:
1. "Mark My Words"
2. "I'll Show You"
3. "What Do You Mean?"
4. "Sorry"
5. "Love Yourself"
6. "Company"
7. "No Pressure" (feat. Big Sean)
8. "No Sense" (feat. Travis Scott)
9. "The Feeling" (feat. Halsey)
10. "Life Is Worth Living"
11. "Where Are Ü Now?" (feat. Skrillex and Diplo)
12. "Children"
13. "Purpose"
14. "Been You"
15. "Get Used to It"
16. "We Are" (feat. Nas)
17. "Trust"
18. "All in It"
19. "What Do You Mean?" (Acoustic Version)