These Students Were Told They Don't Fit Their College's "Mold" — But They're Fighting Back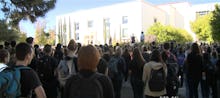 Hunger strikes. "Solidarity walkouts." Administrative resignations. 
Students at the University of Missouri, Yale University and Ithaca College have received attention for these kinds of activist efforts this week, but they're not alone. Students on campuses across the country are refusing to remain silent about routine experiences of discrimination, and students at Claremont McKenna College in Claremont, California, are the latest to join the chorus. In fact, the college's assistant vice president and dean of students, Mary Spellman, was the latest administrator to resign after she suggested student protesters don't "fit the CMC mold," the Daily Beast reported Friday.
The incident: On Oct. 23, undergraduate student Lisette Espinosa wrote an essay about her experience as a low-income student of color at the college in the student-run publication.
"Not until college did I realize I had been taught to be ashamed of being from a working class, immigrant Mexican family, despite growing up around many families like my own," Espinosa wrote in the Student Life. "It was uncomfortable coming to CMC and seeing my home being better represented in the poorly paid, working-class staff rather than those more central to managing the school's trajectory and curriculum."
Not only did she personally relate to these employees more than her peers did, Espinosa continued, but she felt these same workers were often "fired or harassed for organizing for better wages, benefits and working conditions." For Espinosa, this sent a clear message about the administration's values. 
Two days later, Spellman responded in a way perhaps typical of a college administrator: In an email Espinosa posted on Facebook, Spellman acknowledged there is "a lot to do as a college and a community" and suggested they discuss the issues at hand. 
But then Spellman concluded her email in a way that seemingly reinforced the very problem Espinosa had raised. Her staff, Spellman wrote, is working to figure out how they can especially better serve students "that don't fit our CMC mold."
The protest: One student, Taylor Lemmons, was also deeply disturbed by the use of the phrase, and felt it underscored the dean's failure "to respond to violence that marginalized students have experienced on this campus," she wrote in a recent essay. The only response, Lemmons determined, was to resist with equal force: On Wednesday, she went on a hunger strike.
"When empty words and promises are the default response to any criticism from students, real institutional change does not happen," Lemmons wrote. "The time for empty words, hollow apologies and 'brainstorming forums,' that lead to no real progress, is over."
Lemmons hopes "the physical manifestation of something that I am deeply disturbed about, will encourage my fellow students to speak out and up," she concluded.
Other students on campus clearly agree. The same day, the organization CMCers of Color as well as several other groups that seek to fight racism on campus held a protest, KCBS reported.
Although Spellman attempted to address protesters, she was continuously cut off, according to the Daily Beast. She resigned Thursday, the Los Angeles Times reported.
"It's not about intentions. It's about perceptions. Students don't even feel her office is a safe space," Claremont McKenna student body president William Su told the Daily Beast. "I'm pretty happy she resigned. I think it's the best move for our institution."
A deep-seated problem: The unrest at Claremont McKenna was hardly initiated by this interaction, however. In fact, the junior class president resigned this week in response to outrage over appearing in a photo that featured white women dressed in racially insensitive costumes, CoEd reported Thursday.
"For anyone who ever tries to invalidate the experiences of POC at the Claremont Colleges, here is a reminder of why we feel the way we do," one student wrote after posting the photo Sunday on Facebook, according to CoEd. "I'm mentally drained from being a part of this community and I've had enough. If you feel uncomfortable by my cover photo, I want you to know I feel uncomfortable as a person of color every day on this campus."
Lack of diversity and subsequent discrimination has been an issue on this campus for years. According to enrollment data from this fall, about 4% of undergraduate students identify as black or African-American, about 14% as Hispanic and 10% Asian. This marginalization is not just numerical, nonwhite students have reported, but culturally evident as well: In 2010, just under 60% of black students agreed their campus was "free of tension related to ethnicity/race" and about the same number of respondents agreed their campus "is free of tension related to sexual orientation," according to a campus climate survey.
As other protests across the country have similarly demonstrated, the problem extends well beyond Claremont McKenna. This was also demonstrated by the recent viral hashtag #BlackOnCampus, which gathered students of color's experiences of marginalization on Twitter — including one student's school failing to "recognize death threats towards its students as valid," another constantly being "told not to use the race card" and beyond. 
It remains unclear whether Spellman's resignation — or similar resignations of college presidents and administrators on other campuses — is an effective solution. But while student activists may not have all the answers, it seems they're clear on one thing: They can no longer remain silent. As Espinosa wrote in her op-ed, "One of the many things I've learned from queer activists is that assimilation does not equal liberation."
Correction: Nov. 15, 2015