Georgetown Students Announce Sit-In Until Building Is No Longer Named After Slave Owner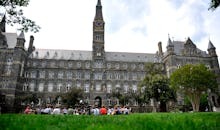 Nov. 15, 2015, 11:33 a.m.: In an email sent on Saturday, Georgetown President John J. DeGioia announced the renaming of two campus buildings. Until a permanent change is made, Mulledy Hall will be known as "Freedom Hall" and McSherry Hall will be "Remembrance Hall."
Students at Georgetown University announced a sit-in demonstration Thursday to protest a residence hall named after former school president and slave owner Thomas F. Mulledy. Their demands were simple: Change the name, or we're not moving.
The demonstration started Friday morning at the office of President John DeGioia, who has presided over the university since 2001. "We will ... be holding the sit-ins until midnight each night!" Crystal Walker, 21, wrote in a Facebook post Thursday.
Walker and the coalition of black student groups who organized the protest plan to continue indefinitely until the president cedes to their demands.
The sit-in was announced Thursday evening at a rally in solidarity with students at the University of Missouri-Columbia, who succeeded Monday in ousting former University of Missouri system president Timothy M. Wolfe. Wolfe resigned after a slew of racist incidents and other administrative failures inspired graduate student Jonathan Butler to go on hunger strike, a move that garnered support from much of the student body, faculty and even members of the football team.
Now, Georgetown students face a reckoning of their own. "There's no reason this building needs to be named after a man who sold slaves," Queen Adesuyi, a 21-year-old senior and American Studies major at Georgetown who helped plan the demonstration, told Mic.
Georgetown's Mulledy Hall is named for the school's 17th president, who sold 272 black slaves owned by the Jesuits in charge of the school to pay off $47,654.54 in operations debt in 1838, according to the Georgetown Voice. The building has been closed for years, but reopened this fall in a student housing expansion. It has been a source of controversy for months.
According to students, the building represents the university's failure to reckon with its history of using slave labor. "The university has been giving us the runaround," Adesuyi said. "Mulledy has been closed for years. Nobody knew about this building until last year when they talked about re-opening it. And we've been trying to get them to change the name since August." 
(Full disclosure: Adesuyi is a former Mic intern.)
Instead of changing the name, President DeGioia has established the Working Group on Slavery, Memory and Reconciliation, an advisory group comprised of students and faculty tasked with helping him address the school's history with slavery. There were 15 members included in the original group, according to the Georgetown Voice, and three of them were students.
There was just one problem, Adesuyi told Mic: "Only one of the students was black."
Crystal Walker, a senior Regional and Comparative Studies major focusing on Russia, was one of two other black students who were added to the group after its lack of diversity started to raise eyebrows. "We've met three times since August," Walker told Mic. "I think we unanimously believe the name should be changed. But there's disagreement about how we should go about doing it."
The dispute, she said, is split into two factions: those who think the name should be changed immediately and those who think a longer vetting process is in order — and want townhall meetings and teach-ins to gauge how the broader Georgetown community feels about it.
But Walker says campus groups have been meeting and discussing the issue for months, and calls for more meetings are redundant. "There have been a plethora of these meetings," Walker said. "Everyone says the name needs to be changed. I feel like it's really at a stopping point now."
President DeGioia has told the advisory group that he will take action on whatever they decide, according to Walker. As of now, it is in their hands. But first they need to decide on something. "There are black students literally living in Mulledy now," Adesuyi told Mic. "People are acting like we can't change the name and have a discussion about slavery at the same time."
The sit-in, Walker said, is meant to pressure the president into taking a more proactive stance. Protesters are scheduled to work in shifts of about 10 students each until he relents, according to the organizers' Facebook page. School administrators have taken notice. After the rally and sit-in announcement Thursday, the president called for his advisory group to meet Friday at 12:30pm EST, and Walker hopes a decision on Mulledy Hall's name will be reached then. "I really hope so, but who knows?" she said.
A name change for Mulledy would only be the beginning, however. According to demands submitted to the president's office by protesters, at least two other buildings on campus have ties to the school's slaving history. This is compounded by an ongoing push from some students and faculty to establish an African-American Studies major at Georgetown (there is currently a minor program, but no major option).
Meanwhile, calls to revisit the legacy of America's monuments have gained traction across the U.S. The Alabama Senate recently voted to rename a bridge in Selma that bore the moniker of Edmund Pettus, a former grand dragon of the Ku Klux Klan. The state's House of Representatives still has to vote to make the resolution binding. And in June, pressure rose nationwide to remove the Confederate battle flag from positions of prominence on government properties, following the massacre of nine black parishioners by a white supremacist gunman at a Charleston, South Carolina, church. South Carolina and Alabama have both removed the flag from their statehouse grounds.
At Georgetown University, the fight to commemorate the school's fraught legacy rages on. One proposal includes renaming Mulledy Hall "Building 272," in honor of the 272 slaves the former-school president sold. In the meantime, the students traversing Georgetown's grounds are literally walking over their dark history. "There are unmarked graves on campus that hold the bodies of slaves," Walker told Mic. "One thing we're asking is for those graves to be marked. We want recognition for the people who were enslaved here." 
President John DeGioia did not immediately respond to Mic's request for comment.