These Latino Street Artists Are Transforming Los Angeles' Walls Into Meaningful Street Art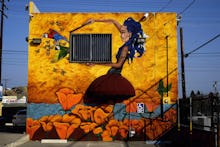 Three years ago, Los Angeles lifted the ban on public murals. Formerly the "mural capital of the world" in the 1960s and '70s, the city hadn't had a public mural scene for decades due to the law. Now, a group of young Latino muralists is behind a mural renaissance.  
Nonprofit organization the Paradise Project commissioned the mural Luminaries of Pantheism in Venice Beach to highlight famous pantheists — people who believe that God can be found in nature and the universe — throughout history. The Paradise Project chose Latino artist Levi Ponce, an internationally recognized muralist who works with artists, business owners and local youth to transform walls into art. 
"My big thing is getting murals they can relate to," Ponce told Los Angeles news station KCET. "I try and find these things that unite us and get them on the walls. I don't go into a neighborhood with my ideas. It reflects the neighborhood that raised me." 
Many of Ponce's works, like this mural of Frida Kahlo, appear on Van Nuys Boulevard in Pacoima, a neighborhood in Los Angeles' San Fernando Valley. According to the Los Angeles Times, 85% of Pacoima's population is Latino. KCET dubbed Pacoima's Van Nuys Boulevard "Mural Mile" in 2012. 
Ponce, 25, puts formal art culture in conversation with his own culture, as seen in his Girl With a Hoop Earring or his Mona Lisa-inspired Pacoima's Art Revolution. The piece, which is over 20 feet tall, shows Mona Lisa wearing a sombrero. She has a Mexican flag and a magazine clip crossing over her chest, a rifle over her shoulder.
Ponce believes his art is a community effort not only in execution but in conception. "Most painters try to paint something internal," he told KCET. "I try to paint what everybody else would if they had my ability."
Artist Kristy Sandoval transformed a barred window into a cage and a garnet awning into a skirt for her mural Colonize, in which a young girl in a field of flowers releases butterflies and parrots into the wild. 
Sandoval believes that murals can be a form of feminist activism. When she approached a barber in Granada Hills to use the side of his business for a mural, he asked that the mural depict a black person, according to LA Weekly.
With a group of other women artists, Sandoval painted former Black Panther Assata Shakur. "Sure enough, people started questioning where all the men were," Sandoval told LA Weekly. 
Since then, then women formed the collective Honoring Our Origins, Ourselves and Our Dreams — aka HOODsisters. 
Together, HOODsisters began using murals to highlight important cultural icons in Latina and California history, like Toypurina, a native Californian who fought against Spanish missionaries and led a revolt in 1785. 
In the foreword to the book If These Walls Could Talk, an academic assessment of Philadelphia's murals, Jane Golden, executive director of Philadelphia's Mural Arts Program, writes, "Murals are, more often than not, pictorial representations of memories, dreams, heroes and aspirations." 
And Sandoval would agree. She specifically saw an opportunity to work with young women. "I would really see the problems with the young women in the area, like neglect from their parents or not having as much confidence as the men do," she told the Los Angeles Times. "I'd see their lack of confidence in dreaming big and having goals to go to school."
Sandoval believes the murals will allow young people to express themselves, something they're not always allowed to do.
"My intention was to get to the kids from the area out on the streets tagging and out getting in trouble," Sandoval told the Los Angeles Times. "They want to paint, they want to create art. They have this tough exterior, but they just want attention; they want support with what they do."