Here's What It Looks Like When You Try Instagram Beauty Trends in Real Life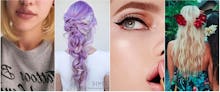 From elaborate fishtail braids to Kylie Jenner's overlined lips, there's no shortage of beauty looks that sweep through social media and make their way into our real lives. Some range from the bizarre or arguably hideous, while others are ridiculously beautiful. 
Either way, unless you're a professional, you've got reason to be wary. Some of those complicated, often overly involved techniques are probably good for a small niche of the human race, while more of us end up looking like the pathetic "before" of a "before and after" beauty transformation.
Instagram is undoubtedly where we go to see things of beauty, including makeup, hair, nails and skin, but we know it's also a place we go to see life in its most beautifully exaggerated and filtered forms — something the world is increasingly learning from outspoken online "stars" like 18-year-old viral sensation Essena O'Neill.
With that in mind, I decided to try a few middle-of-the-road Instagram beauty trends — ones that looked ambitious enough to be worthy of tutorials but not too difficult to actually try — to see if they were actually as doable, effective and beautiful as they appear on screen. 
Surprisingly, some of these trends actually work and were worth my trying. But the not-so-surprising element was there as well: Some things truly only look good under 900 Instagram filters or with serious skill — that many of us, myself included, don't have.
1. Korean mask sheets
Korean skincare and makeup are one of the biggest beauty trends to hit American beauty aficionados this year. Among the most popular products are Korean sheet masks, which are said to impart the understated, youthful glow popular in South Korea and now the United States.
They're hard to "mess up," but do they work? These masks are intended to heighten a particular effect your skin needs — from oil-minimizing to moisturizing to brightening — by applying a concentrated amount of product. The cold weather makes my skin incredibly dry, so sticking a sopping wet microfiber sheet full of gooey goodness (lots of botanical "essences") was a welcome treat. I already had a slew of sheet masks from brands like Etude House, Skin Food and Innisfree piled in my drawers for months, so I put one on after a bath. I left it on for about an hour (more than instructed) until my skin had soaked up all the good stuff and the mask was dry, then I simply peeled it off and tossed it in the trash.
Verdict: My skin was so much softer, smoother and much more hydrated immediately afterward — and for several days after too.
2. Overlined Lips
Otherwise known as the Kylie Jenner Effect, overlined lips are where it's at in makeup today, especially if your natural lips lack plumpness. Bigger is better, says the new ideal. And short of getting injections, which are costly and potentially risky, your best other option is to let a lip pencil do the work for you.
As someone who doesn't follow trends too closely nor do makeup enough to be an expert (I couldn't contour to save my life), I pulled up a few YouTube tutorials on how to get the look that haunts my Instagram feed on the daily (and not just from Jenner), which involved taking Charlotte Tilbury's Lip Cheat pencil in Pillow Talk and lining my lips, before filling it in with her Matte Revolution lipstick in Bond Girl.
Verdict: Unfortunately, I ended up looking more like a literal clown. I was self-conscious about leaving the house, despite the fact that I used an identical colored liner and lipstick to avoid obvious lines. This one can be left to the social media professionals and Kardashian/Jenner family members.
3. Fancy braids
I have long hair, but I rarely do anything with it besides throw it up in a sloppy bun. It's a waste, really, especially when I do know how to do the most basic braids on my hair (even French braids!). I have major hair envy every time I see the beautiful, elaborate braids the women on Instagram put together, from long, flowing fishtails to adorable milkmaids. 
So I had to try one myself — a small fishtail style into a bigger braid — though I feared these women must have in-house hair stylists to get them so perfect. 
Verdict: These braids are really, really hard. There's no way the Instagram braiders are doing the work themselves, unless they're complete and utter superheroes with an extra set of hands — and an extra set of eyes to see what they're doing. (I'm not the only one who thinks so.)
4. False lashes
The same women on Instagram who are killing the overlined lips tend to also sport over-the-top, fluttery faux lashes. Sure, it's not an everyday, wear-it-to-the office look, but it's certainly something different for a rare night out. 
I hit up the local pharmacy for the most dramatic false lashes I could find and headed home to make my transformation. Since the lashes came with glue, the application was pretty simple: Spread a small amount from the applicator onto the lash edge, then use your hand or tweezers to place the lashes directly onto your own lash line. This takes a steady hand and some adjusting, but luckily the glue doesn't dry too quickly.
Verdict: Instead of looking like I was ready to hit the clubs, I ended up feeling like a Halloween party would have been a better option — and I still don't even know what my costume would have even been. I think I'll stick to something a bit less fluttery in future.
5. Fake septum piercing
Septum piercings date all the way back to ancient cultures, but in more recent times, having your septum pierced is a sign that you've earned your badass status by letting someone stick a giant needle through the cartilage in your nose. 
Celebrities including Rihanna, Lady Gaga and FKA Twigs have popularized the piercing, but you don't need celebrity money to get it: Anyone who has the equivalent of $3 to spend at a trendy clothing store to pick up a pack of "imitation body jewelry" and then clip one in. The ease and availability does sort of take away some of the septum piercing's badassery, but maybe that's just life in 2015.
Verdict: Of all the trends I tried, this is the one I'm most likely to keep up, although not necessarily on a daily basis. There are so many options to try — some bejeweled, some with a heart at the center, others ornately crafted. I feel incredibly obnoxious and a bit like a poser whenever I put one in, of course since they're so prevalent by now. But I also feel a strange sense of confidence that I can't shake.
6. Pastel hair
The pastel hair tradition has been floating around for years, and yet it's still not played out. Instead, it's changed forms and branched out into endless mini-trends, from oil slick hair to mermaid hair to My Little Pony hair. I decided to give mermaid hair a go, inspired by how vibrant and cheerful it was.  
I decided to go "old school" (at the rate these hair trends move) with pastel hair, courtesy of hair chalk. I have dark hair and a serious fear of beauty commitment, so I skipped the dye bottle.
Verdict: It's trickier than it looks on Instagram, especially when you're not paying hundreds to have a pro hair stylist add these colors to your locks on a semi-permanent basis. Instead, I had my partner look back and forth between my hair and an Instagram photo and do her best to make mine look similar. What we realized: Dark hair and hair chalk don't go well together, though blondes might have more fun with it (as always). 
There are more beauty trends coming fast and furious every day, each with a new hashtag. #PumpkinSpiceHair arrived earlier this month, only to be replaced by #glitterroots. But while these and more Instagram beauty trends are great to look at, they don't often translate unless you have lots of money and even more patience... and a crap-ton of filters.