Snapchat Selfie Lenses Are Now Available for Purchase. Here's What They Look Like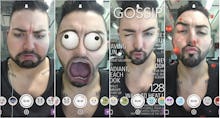 Snapchat's 100 million users have been puking rainbows and turning into monsters ever since the app unveiled lenses on Sept. 15. Fans of the filters have been swiping right each week to occasionally find new options to choose from, but starting Friday, some of those will come with a price.
In an effort to rake in $50 million in revenue by the end of 2015, Snapchat — currently valued at $16 billion — will charge users 99 cents for a slew of lenses in a new addition to the app called the lens store. Although seven lenses are still available for free, along with some new options, 29 lenses are now available for nearly a dollar each. 
The in-app purchases are available by holding a thumb on the screen while using Snapchat's selfie mode, then swiping right through the first seven free lenses. Below are just some of the lenses available — including some popular ones that have been reintroduced to the app after being removed as free options — along with captions I would have included if I had the money to purchase each lens:
"When you ask your office if you can expense the new Snapchat lenses for an article"
"I got 99 problems, and they all cents now."
"EYE HAD NO IDEA THIS LENS COSTS 99 CENTS?!?!"
"The puking rainbow party is BACK in full swing!"
"Ugh, why won't the tabloids just let me live my life?"
"Haters make me famous."