Who Is Dorothea Christiane Erxleben? Google Doodle Honors GermanWomen's Rights Advocate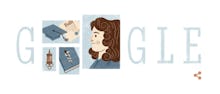 On Friday, Google celebrated the 300th anniversary of Dorothea Christiane Erxleben, Germany's first female doctor and an activist who advocated for women's rights in the early 18th century. The search giant paid tribute to the early feminist with one of its Google Doodles.
The life and times of Germany's first female doctor: Erxleben was born in 1715 in the central German town of Quedlinburg, located just north of the Harz mountains. Erxleben's father, a physician,  was a member of the middle class who explored the ideals of the Enlightenment, which by proxy exposed Erxleben to the thinking that rational change can advance societies.
The right to an education is one battle that Erxleben fought on behalf of women, and a war she personally won when, in 1754, she became the first woman to receive a doctorate in medicine from the University of Halle, an exception made possible by a royal decree issued by Frederick the Great.
Per a footnote in John Augustine Zahm's Woman in Science:
"In 1754, Frau Erxleben, who had made a thorough course of humanities under her father, presented herself before the faculty of the University of Halle, where she passed an oral examination in Latin which lasted two hours. So impressed were the examiners by her knowledge and eloquence that they did not hesitate to adjudge her worthy of the coveted degree, which was accorded her by virtue of a royal edict."
Via that royal edict, Erxleben became the first German woman to earn her doctorate of medicine.
Erxleben married Johann Christian Erxleben, and together the couple raised two daughters and two sons of their own, as well as five stepchildren. Germany's first female doctor practiced medicine for the remainder of her life in her hometown, and eventually passed away on June 13, 1762, at the age of 46.