This Muslim Woman Is Responding to Her Hate Tweets in the Most Ingenious Way Possible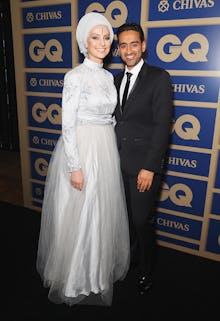 Muslim Australian academic Susan Carland, who is married to television host Waleed Aly, refuses to let the haters win. Carland, who has long been the recipient of hateful anti-Muslim tweets, announced in October that for every awful tweet she gets, she is donating $1 to UNICEF. In a Sydney Morning Herald essay published Friday, Carland, 35, explained her thinking.
"I regularly get tweets and Facebook messages from the brave freedom-fighters behind determinedly anonymous accounts telling me that, as a Muslim woman, I love oppression, murder, war and sexism," Carland wrote. 
Engaging her trolls achieved nothing, she explained: "I am just a blank canvas onto which they can project their own prejudices and fantasies about Muslims."
Carland said she wanted to respond in an Islamic way and honor an injunction in the Koran that reads, "Good and evil are not equal. Repel evil with what is better."
"I am just a blank canvas onto which [the trolls] can project their own prejudices and fantasies about Muslims."
"I particularly liked the idea of giving to UNICEF, as so often they were assisting children who were in horrific situations that were the direct outcome of hate — war, poverty due to greed, injustice, violence," she wrote. "These children seemed like the natural recipients for the antidote to hate. And donating to them every time I was abused felt like tangible good in response to virtual hate."
With around $1,000 in donations thus far, UNICEF thanked Carland on Twitter, with a word for the trolls.
Others dug it too:
Carland was suitably gracious:
Called Australia's "Brangelina" by friends, Carland and her husband have been lauded as the embodiment of modern Islam. On Wednesday, Carland tweeted a picture with Aly from GQ Australia's Men of the Year awards, where he won for Media Personality of the Year.
In 2009, Carland was named one of the 500 Most Influential Muslims in the World by the Royal Islamic Strategic Studies Center, and in 2004, at 25, she was named the Australian Muslim of the Year. 
Carland's academic work focuses largely on the relationship between feminism and Islam. Not surprisingly, given a worldwide rise in Islamophobia, Carland's work has lured the anti-Muslim trolls out from under their primitive bridges. 
"Their online abuse ranges from requests to leave Australia, hope for my death, insults about my appearance (with a special focus on my hijab), accusations that I am a stealth jihadist, and that I am planning to take over the nation, one halal meat pie at a time," she wrote the Sydney Morning Herald piece. 
"This has been an unexpected outcome; by refusing to let the hate of others mold me, I am more secure and relaxed in my own identity than ever," she wrote. "Their hatred of what they believe Muslims are has encouraged me to recommit to the beauty of my tradition."