If You Care About Women, It Might Be Time to Think Twice About Where You Shop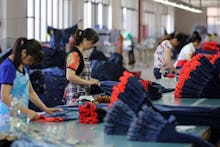 Black Friday is coming, and we know the thrill of finding a "fast fashion" item — that cheap shirt from H&M or the perfect skinny jeans from Forever 21 — is a special kind of high. But in that victorious, post-purchase haze, how much do we think about how those clothes were made?
Most mass-market clothing is produced overseas, where labor costs are considerably cheaper. In fact, 97% of clothing sold in the United States is imported, according to a 2014 report from the American Apparel & Footwear Association. Many cheap clothing items are made by workers in poor conditions, for low pay — and most of those workers are women.
The working women behind our clothes: Women comprise about 80% of garment workers worldwide, by many counts. In Bangladesh, female workers account for 85% of the country's 4 million garment workers. In Cambodia, women are about 90% to 92% of the over 700,000 garment workers, according to a Human Rights Watch report. The women in these countries and more — China, Vietnam, Indonesia, India, Mexico — are the source for most American-bought clothing. 
Why is it women who fill the factories?
As Liana Foxvog, director of organizing and communications at the International Labor Rights Forum, explained to Mic, "Factory owners prefer to hire female workers because they believe that not only are they better suited for sewing with their smaller hands, but that they're also more docile and, therefore, willing to work longer hours for less pay, without organizing or trying to change their conditions."
While garment work can be a boon to women who might not have many work opportunities, wages are a consistent issue. According to the International Labor Rights Forum, many female garment workers in Bangladesh earn a wage that comes out to about $68 a month, making them some of the lowest-paid garment workers in the world. 
In 2013 and 2014, workers in Cambodia went on strike to protest for higher wages. Bangladeshi workers protested overdue wages with a hunger strike in 2014.
Women also face long hours and potential workplace injuries in poor conditions, as well as sexism and discrimination on the job. Foxvog says that many women in the garment industry aren't given their legally owed maternity leave or are subject to harassment from male supervisors. 
From reports in both 2006 and 2011, a number of Chinese workers at garment factories in the U.S.-owned territory of Saipan alleged that the factories forced pregnant employees to get abortions. The complaint led to an investigation by the U.S. Department of Insular Affairs. According to the Independent, female workers often toiled in the factories for 15 hours a day, six or seven days a week. In addition to making little pay in the first place, factory workers owed high recruiter fees to the people who found them the factory jobs. 
In Cambodia, when a female worker became visibly pregnant, she was demoted and ultimately fired, according to a Human Rights Watch report.
Which companies are to blame? Many of the clothing being made in factories in places like Cambodia, Bangladesh and China ends up in those countries or in nearby nations. But much is destined for Western countries, often unknown. When workers file complaints about unfair working conditions, it can be difficult to figure out which clothing companies are to blame. Foxvog said that many garment workers have no idea what brand they're making clothing for, unless their job is to sew on the tags.
When it comes to accountability for brands, as Michael Hobbes explained in "The Myth of the Ethical Shopper" for the Huffington Post, American companies often hire "megasuppliers" to coordinate with subcontractors, who then hire out the factories. With the clothing brands so many steps removed from the workers, calls for higher wages or better working conditions are hard to ensure and enforce.
Investigations from the International Labor Rights Forum and Human Rights Watch have led some clothing brands, including Nike, H&M and Patagonia to become more transparent about their wages and where their factories are located — that they know of. 
After the Rana Plaza collapse in 2013, dozens of companies, including many European-based clothing labels, signed a series of agreements to improve factory safety. But as Hobbes noted in the Huffington Post, the fashion companies often have little control over what happens at factories, and the strong push for factory audits hasn't always resulted in safer factories — not to mention the issue of higher pay.
Change coming from women themselves: Women on the ground have started taking action. In Bangladesh, for example, more women are pushing into leadership roles in the unions, including "the two most visible garment worker leaders in the country," PRI reported in September. Even edgier are the six former garment workers who form the girl rock group Messenger Band, founded in 2005 by the Cambodian nongovernmental organization Women's Agenda for Change to raise awareness of conditions and empower female laborers.
"We're finding that there are certainly plenty of women, or workers in the garment industry, who are organizing for change and who are becoming leaders, even often in more patriarchal environments," Foxvog told Mic. 
The other women who may help bring change? The future designers and CEOs in the next generation of garment industry leaders. They may not control labor policy, but fashion design students — who are predominately female — already have this on their radar. 
In a new video by Remake, fashion design students at Parsons the New School for Design discuss True Cost, a documentary about garment workers in the fashion industry, filmed in 13 different countries. Sustainability, the video explains, is becoming more and more important to the school's curriculum, and several students expressed interest in reforming the fashion industry's problems, including the unfair treatment of garment workers. 
"In my 13 years of teaching, we're seeing a completely new kind of fashion student now," Timo Rissanen, assistant professor of fashion design and sustainability at Parsons, says in the video. "They are people who want to make a difference in the industry."
Those students might not be able to affect policy. But they're the future voices in fashion — and for now, they're also shoppers. As the Guardian put it, the state of labor overseas is "a feminist issue" for anyone who shops.