Listen to Scott Bradlee's Reimagining of the Pokémon Theme Song as a Soulful Jazz Standard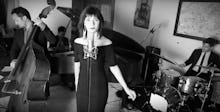 Ash Ketchum was a pretty terrible Pokémon trainer. He lost nearly every gym battle; it took him forever to evolve his Pokémon; and he never beat the Elite Four, the best trainers in the region. Yet kids in the '90s tuned in week after week to watch him fail. 
After all those countless hours, the show's main theme song likely got so burned into many young fans' brains, they'll likely never forgot the lyrics or melody. That memory could come in handy, though, if one was in the business of recording sophisticated reinterpretations of '90s television theme songs. 
Pianist Scott Bradlee is the creator of the Postmodern Jukebox, a revolving collection of musicians reinterpreting classic songs in different genres. One of his latest, posted to his personal YouTube account rather than the Jukebox's, is the "Pokemon Theme Song as Jazz" featuring vocalist Sara Niemietz. As familiar as listeners may be with the theme, they've likely never heard it swing like this before.
Bradlee has done a whole series of Saturday morning cartoon themes reimagined as slow jams, including songs from Transformers, Duck Tales and Teenage Mutant Ninja Turtles. With the Postmodern Jukebox, he's also translated Miley Cyrus' "We Can't Stop" into doo-wop, Beyoncé's "Halo" into Motown and Guns 'n' Roses "Welcome to the Jungle" into an orchestral number. 
Listen to all Bradlee's experimental covers on YouTube.