NASA Releases Never-Before-Seen Image of a "Psychedelic Pluto"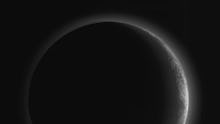 In 2006, Pluto was demoted from planet to dwarf planet, causing schoolchildren everywhere to send their solar system dioramas down the trash chute. But on Thursday, Pluto got its groove back. 
Since NASA's New Horizons spacecraft flew by Pluto for the first time in July, the agency has wooed earthlings with a steady stream of high-resolution images of the dwarf planet. On Thursday, NASA released yet another stunning image of Pluto, this time "painted" in a spectrum of neon colors. 
In the latest image from NASA, dubbed "Psychedelic Pluto," the orb is transformed into something worthy of a blacklight poster, thanks to a photo-editing technique called "principal component analysis" which highlights the planet's geographical variations — and also makes Pluto look like a prime destination for a rave.
The image was snapped from a 22,000 mile distance during the monumental Pluto flyby on July 14, and edited by New Horizon's surface composition team on Nov. 9.
The New Horizon's crew launched from Earth in 2006 on what would be a 3 billion mile and nine-year mission to document and map Pluto and its moon, Charon. The mission uncovered key information about the dwarf planet, including its reddish tint. Previously, Pluto was believed to be a dark, grayish planet. The crew more recently discovered that Pluto features a heart shape on its surface, in what NASA described as a "love note" to Earth.