Raven-Symoné Ate Chick-Fil-A on 'The View' — But She Still Shouldn't Be Fired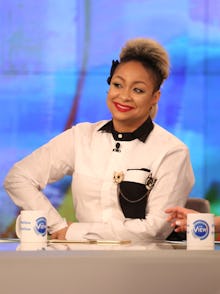 It's not been half a year since Raven-Symoné joined The View, but she's barely managed to make it through a couple of weeks without causing controversy. There was the time she blamed the student in the Spring Valley High School police brutality incident. There was the time she declared she wouldn't hire a person named "Watermelondrea." Her streak of saying incredibly controversial things even led to a petition to have her fired that, as of Friday, has over 136,000 signatures.
Then, on Friday, the star of ABC's chat show ate a Chick-fil-A chicken sandwich on-air.
The chicken sandwich fast-food joint has been a lightning rod for controversy over the past few years after its donations to anti-gay groups made news in 2012. Raven-Symoné has said she dates women, though she has been somewhat notoriously resistant to the term "lesbian" in the past.
Seeing Raven-Symoné eat Chick-fil-A on daytime TV in the same week that she was named to Out magazine's Out 100 didn't sit well with some viewers of The View.
Despite viewer frustrations, ABC has remained resistant to calls to fire Raven-Symoné. "We love Raven," the network told the media in a statement in response to the petition. "She is confident, genuine and opinionated, all qualities that make her a great addition to the panel."
The company's actually not wrong. Raven-Symoné shouldn't be fired. Silencing a voice, no matter how controversial it is, isn't the answer. The answer is to add another voice to actually, directly converse with hers — something that The View used to do quite well.
In May 2007, The View featured 10 minutes of the most gripping daytime television ever aired. After less than a year of working alongside each other and disagreeing with each other, fervent liberal Rosie O'Donnell and staunch conservative Elisabeth Hasselbeck finally hit their collective breaking point. After multiple commentators, including Fox News, accused O'Donnell of calling American troops "terrorists," she looked to Hasselbeck to back her up. Instead, current Fox and Friends host Hasselbeck hedged, leading to the former calling her actions "cowardly."
"I am certainly not going to be the person for you to explain your thoughts," Hasselbeck said. "They're your thoughts. Defend your own insinuations. Defend your own thoughts."
"Frankly, every time I defend them, it's poor little Elisabeth that I'm picking on," O'Donnell shot back, referring to what she considered the spinning of her comments in the press. "That's why I'm not going to fight with you anymore, because it's absurd. So for three weeks, you can say all the Republican crap that you want. I'm not going to do it."
It was a profoundly uncomfortable scene. It was also captivating TV. These two women, matched in passion but diametrically opposed, had been engaged in intense debate for almost a year. It was their final fight — O'Donnell didn't return to the show until 2014 — and it was just as much about being friends and colleagues as it was about their political differences. It may have been ugly to watch, but it was an instance of television casting doing exactly what it is supposed to do: engender fascinating interactions between a great mix of personalities.
Raven-Symoné has no direct opposing force on The View. Whoopi Goldberg inconsistently pushes back against her, but is often just as controversial. Comedian Michelle Collins isn't yet a major presence on the panel. Returning panelist Joy Behar used to be liberal to the point of polarizing viewers but has been considerably quieter this season.
The key to making Raven-Symoné a viable The View star is to add someone as "confident, genuine and opinionated" as she is, to quote ABC, but from an opposing point of view. That would give the show a built-in critical voice and would likely even inspire Raven-Symoné to make her arguments stronger. She wouldn't be less controversial, but there would be an actual dialogue.
The View producers would be wise to look for other black and queer voices to add to the panel for that role. Right now, she represents black and queer people on the panel (with Goldberg as a fellow black panelist). The View isn't Congress, but for its viewers, it's fair to want their representative to reflect at least some of their own views. 
In the petition to fire Raven-Symoné, creator Che Scott-Heron touched on this need. "African-Americans and black people around the diaspora need a voice representative of their views and not a voice representative of what white people want us to say," he wrote.
To give the show a built-in critical voice would likely even inspire Raven-Symoné to make her arguments stronger. She wouldn't be less controversial, but there would be an actual dialogue.
Agree with her or not, Raven-Symoné is easily the most dynamic presence on The View's panel. She makes headlines and draws attention to the show. ABC is not going to fire her; keeping her around is smart business.
ABC letting Raven-Symoné say controversial things unchecked, however, is bad business. It's only going to further tarnish The View's brand. Giving her an adversary would change the game. It could even return the show to its O'Donnell-Hasselbeck glory days. That would be the best result of all.