David Hasselhoff Legally Changes His Name to David Hoff —This Is Why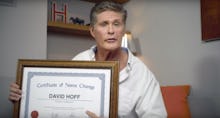 In a nine second video posted by 63-year-old actor David Hasselhoff to YouTube on Thursday afternoon, the Baywatch star announced he legally dropped the beginning of his last name, officially making him "The Hoff" — because everybody needs a little less "hassel" in their lives. 
The video, titled "Goodbye David Hasselhoff," shows "The Hoff" sitting in his home in a semi-unbuttoned shirt, holding a plaque which shows a legal name change certificate. "I've been wanting to drop the hassle from my life for years," Hasselhoff — sorry, Hoff — explains in the clip. "Now, I have made it official. David Hoff." he says, pointing at the certificate.
The video has garnered over 25,000 views on the actor's YouTube channel, which is appropriately named "David Hoff."
It isn't much, but it's the celebrity's most watched video on his channel, which has been active for over a year. Other videos include Hoff playing with a bobble-head doll and attempting to snag an appearance on the Jerry Springer Show by wishing the TV host a happy birthday and staging a fake segment of his own. 
The BBC reported the name change could be, at least in part, an effort to promote the upcoming season of his British TV show, Hoff the Record.
Hoff, who has been using the nickname "The Hoff" for decades, told The Guardian in June, "the Hoff makes more money than Hasselhoff."
Although it remains unclear exactly what prompted the legal name change so late in the actor's life, he seemed satisfied with the switch to Hoff. Hoff wrote on Twitter Thursday (which is still @DavidHasselhoff), "Big news today and a massive relief for me. I hope everyone can understand...it feels great!" 
Good for you, Hoff. Good for you.