Who Will Be in the 2015 CBS Democratic Debate? Candidate Info, Moderators and How to Watch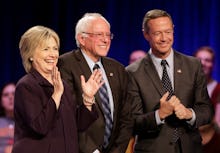 Saturday's debate will present a showdown between the three remaining Democratic presidential candidates: former Secretary of State Hillary Clinton, Vermont Sen. Bernie Sanders and former Maryland Gov. Martin O'Malley. CBS News will host the second face-off between the presidential hopefuls at Drake University in Des Moines, Iowa. The main event kicks off at 9 p.m. Eastern. 
Mic is an exclusive digital partner for the second Democratic debate. You watch a full live stream of coverage below. 
John Dickerson, anchor of CBS News' Face the Nation and the network's political director, will moderate Saturday's debate with CBS News correspondent Nancy Cordes, KCCI NewsChannel 8 reporter Kevin Cooney and Des Moines Register columnist Kathie Obradovich. 
While the moderators of CNBC's Republican debate in late October were criticized for their aggression, Dickerson said in an interview with CBS News that his goal as moderator is to "to be a window."
In the interview, Dickerson also shared what he thinks will be the most crucial topic of discussion on stage on Saturday. Per Dickerson, top of the talking points will be "the middle class squeeze," more specifically, "why it's happening and how to stop the stagnation of wages and increase of prices in their lives." 
Dickerson also signaled the importance of gun control legislation, health care, foreign policy and income inequality, which he said are all issues the candidates have disagreed on. 
According to survey by the New York Times and CBS News, which was published Thursday, Clinton has the majority of Democratic primary voters' support, polling at 52% ahead of Sanders' 33%.
When asked in the CBS News interview who has the most riding on Saturday's debate, Dickerson offered a logical response. "They all have something at stake, but Hillary has the most at stake because she is the one who is farthest ahead," he said.