Who Is Bernie Sanders? A Quick Guide to the 2016 Presidential Candidate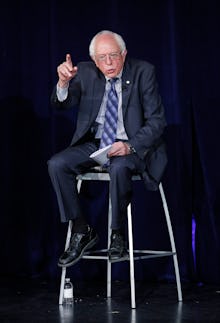 Vermont Sen. Bernie Sanders will face off against former Secretary of State Hillary Clinton and former Maryland Gov. Martin O'Malley during the CBS Democratic primary debate on Saturday in an effort to become the 2016 Democratic presidential nominee. A recent New York Times/CBS News poll shows that Sanders is favored by 33% of his party's likely voters, second to Clinton's 52% of support. 
Sanders has served as a senator of Vermont since 2006. Before that, he served as Vermont's only congressman in the House of Representatives for 16 years. Sanders is an independent senator and is the longest-serving independent congressman, yet he decided to run for president on the Democratic ticket.
Independent running as a Democrat: In September, Sanders explained to CBS News his decision to run as a Democrat. "If we were serious about winning this election, which is always my intention from day one, I thought we could and I hope that we will," Sanders told CBS News. "I had to do it within the Democratic primary caucus process."
He added that he wouldn't want to detract from the Democratic candidates' votes as an independent candidate. "What I did not want to do is run as a third-party candidate, take votes away from the Democratic candidate and help elect some right-wing Republican," Sanders told CBS News. "I did not want responsibility for that. So what I said at the beginning of the campaign is that I was not going to run as an independent. And I say it now, that if I do not win this process I will not run as an independent."
Democratic socialism: Sanders has often referred to his political strategy as democratic socialism, a political theory that says the government should restrict the private sector in order to prevent big banks from running the economy. This is the exact definition of democratic socialism, according to the Democratic Socialists of America:
"Democratic socialists believe that both the economy and society should be run democratically — to meet public needs, not to make profits for a few. To achieve a more just society, many structures of our government and economy must be radically transformed through greater economic and social democracy so that ordinary Americans can participate in the many decisions that affect our lives."
Sanders has developed a reputation for his strongly liberal policies on hot-button issues including marijuana and income inequality.
Background: Sanders was born in Brooklyn and received degrees from Brooklyn College and the University of Chicago, according to his website. Before becoming a politician, he worked as a carpenter and documentary filmmaker in Vermont. His political debut was serving as the mayor of Burlington. Sanders was elected to that office in 1981 by 10 votes.
The Democratic presidential contender also knows how to bust a move:
Mic is an exclusive online digital partner with CBS for the second democratic debate. You can live stream full coverage here.