One Direction 'Made In The A.M': Streaming Options, Lyrics and How to Download New Album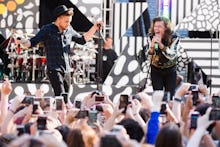 The boys of One Direction are back with new music. The British boy band's highly anticipated new album, Made in the A.M., dropped Friday. Released on the same day as Justin Bieber's Purpose, the group's fifth studio album is already garnering critical praise, with many reviews citing a sound that has matured since the band's 2010 debut on the The X Factor. 
Made in the A.M., the deluxe version of which contains 17 tracks, is available to download on iTunes and stream via Apple Music, Spotify, Prime Music and Tidal (logins required). The band's newest album — their first since the departure of fifth member Zayn Malik — has also been streaming on CapitalFM since Wednesday as an exclusive first listen.  
Track list:
1. Hey Angel
2. Drag Me Down
3. Perfect
4. Infinity
5. End of the Day
6. If I Could Fly
7. Long Way Down
8. Never Enough
9. Olivia
10. What a Feeling
11. Love You Goodbye
12. I Want to Write You a Song
13. History
14. Temporary Fix 
15. Walking in the Wind
16. Wolves
17. A.M.
In October, One Direction released "Perfect" and an accompanying music video. The video was viewed more than 40 million times by the album's release on Friday. 
The single's lyrics deal with a love affair (think: spontaneous hook ups in hotel rooms and trips to  places) while leaving behind the traditional niceties of a relationship:
"But if you like causing trouble up in hotel rooms/ And if you like having secret little rendezvous/ If you like to do the things you know that we shouldn't do/ Baby, I'm perfect/ Baby, I'm perfect for you."
Made in the A.M. will be the band's last album for a while, as the group is planning on taking a hiatus from the music industry starting in August. One Direction has released an album each year since their discovery on The X Factor.