This Man's Heartfelt Tribute to His Trauma Nurse Wife Is Going Viral on Facebook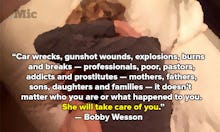 Mic/Bobby Wesson/Facebook
"My wife is a trauma nurse. My wife is a hero."
On Nov. 7, Bobby Wesson of Gardendale, Alabama, shared a photo of his wife, Rayena, curled up with their toddler for a nap. "In an hour," he wrote, "she will wake up, put on her scrubs and get ready for work."
Wesson's photo and story quickly went viral. It's been shared more than 94,000 times and has garnered more than 238,000 likes. 
In the post, Wesson describes the way his wife of two years goes to work every day.
"She will kiss the baby, she will kiss me and she will leave to go take care of people that are having the worst day of their entire lives.
"Car wrecks, gunshot wounds, explosions, burns and breaks — professionals, poor, pastors, addicts and prostitutes — mothers, fathers, sons, daughters and families — it doesn't matter who you are or what happened to you. She will take care of you."
When she finally comes home at the end of a 14-hour shift, he wrote, "She will come home 14 hours later and remove shoes that have walked through blood, bile, tears and fire from aching feet and leave them outside." 
She sometimes talks about what she's seen. Other times she doesn't. She sometimes laughs, sometimes cries.
"But regardless of those sometimes," he said, "she will be on time for her next shift."
Besides shares and likes, the post has also drawn thousands of emotional comments celebrating trauma nurses' often unsung heroics.
"This is a beautiful tribute to a profession which has at times been underappreciated and marginalized by those who lack the respect of the intellect, skills, compassion, education, dedication, sacrifice and special devotion of these professionals," one commenter said. "They do not exist for the mere purpose of wiping the sweat from the surgeon's brow."
Wesson is stunned by the number of people touched by his personal tribute.
"My wife and I are both amazed and humbled by how far this has traveled, and by all of the notes and stories that people all over the world have shared with us," he wrote on Facebook.