In-N-Out Burger Is Suing DoorDash Delivery Service —Here's Why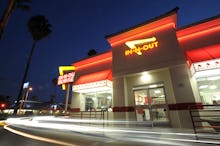 In-N-Out Burger, the Californian fast food chain with a cultish following, is suing restaurant delivery startup DoorDash for allegedly damaging its brand. The fast food company has also accused DoorDash of copyright infringement, TMZ first reported, as In-N-Out Burger says it never authorized the use of its logo on DoorDash's web and mobile pages.
In essence, In-N-Out says DoorDash's product handling during delivery isn't up to its standards, and is therefore cheapening its brand.
According to a filing from In-N-Out Burger with Central California's U.S. District Court, the fast food chain has several problems with the way DoorDash has involved both its brand and its product.
"Defendant's use of Plaintiff's famous trademarks implies that Defendant not only delivers In-N-Out products to its customers, but that the quality and services offered by Defendant is the same as if consumers had made purchases directly from Plaintiff," reads the filing. "Upon information and belief, the quality of services offered by Defendant does not al all comport with the standards that consumers expect from Plaintiff's goods and services."
In-N-Out's grievances included that the fast food company can't control how long deliveries through DoorDash take or at what temperature the food arrives.
This isn't the first time DoorDash has fielded a lawsuit in recent months. In September, DoorDash and rival food-delivery services GrubHub and Caviar weathered a series of lawsuits levied by the companies' drivers. Per Munchies, a Vice vertical, the crux of the problem had to do with classifying food transporters as company employees or independent contractors. Without proper employee classification, on-demand startups are not required by law to offer workers benefits such as health care and Social Security.
For DoorDash, GrubHub, Caviar and others, the legal trouble could just be getting started. 
"A brand is everything to these restaurants," restaurant attorney Amy Adolph told CBS News. "They're putting so much time and money into it. That's what sets these different restaurants apart."
"We're seeing this more and more with these on demand apps and on-demand services — that cities are beginning to regulate them."