Racist Yik Yak Threat at Michigan Technical University Leads to Arrest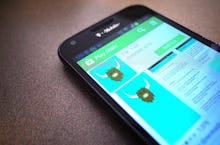 A suspect was arrested on Thursday for allegedly posting an anonymous threat against black students at Michigan Technical University in Houghton, Michigan, according to a statement from the university. The threat, posted to the social media messaging app Yik Yak and discovered Thursday, comes the same week two college students in Missouri were arrested for making racial threats via the app.  
The MTU threat read, "Going to kill all black people," according to a university spokeswoman. On Friday, the university announced that an arrest was made via Twitter.
The suspect is being held at the Houghton County Jail, university spokeswoman Jennifer Donovan told Reuters. 
"It's important to remember that we are a community and will not tolerate threats to any member of our family," the university's President Glenn Mroz said in the statement. "It's time we watch out for one another."
On Wednesday, USA Today reported that Northwest Missouri State University student Connor Stottlemyre was arrested after allegedly posting to Yik Yak that he was "going to shoot any black people tomorrow, so be ready." In a separate incident, Missouri University of Science and Technology student Hunter Park was arrested the same day for a similar post.
These incidents further fueled the tensions at the University of Missouri after students accused the university's president Tim Wolfe of failing to address racial injustice on campus. Over the past three months, a series of racist incidents occurred on campus prompting the outcry. On Monday, Wolfe stepped down. Meanwhile protests are are ongoing.