These Iconic Fashion Moments Were Definitely Not Supposed to Be Fashion Moments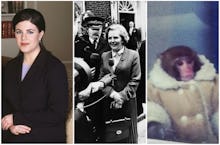 There are the iconic style moments that are calculated: Lady Gaga's meat dress, Rihanna in her crystals and nude, Audrey Hepburn's little black number in Breakfast at Tiffany's. 
And then there are the other ones. The ones where a person was minding their very own business, not trying to grab anyone's attention — and the style world took notice. These moments have an exhilarating quality to them in that no stylist weighed in, no designers rolled over a rack of dresses and said, "Here, try this one," and no one was really supposed to be paying attention to fashion at all.
They're moments that showed, in short, that clothes matter. How we style ourselves speaks loudly, even if we don't intend it to, and that goes for everyone — politicians, CEOs, athletes, even animals. 
So to celebrate this unintentional magic, Mic rounded up a few of our favorites.
Monica Lewinsky's Lipstick
When Monica Lewinsky sat down with Barbara Walters in the spring of 1999, viewers were supposed to come away with a whole perspective on Lewinsky. Instead, some could only focus on her lipstick. 
The day after the pair's headline-making interview on ABC's 20/20, Good Morning America reported that they had received tons of emails regarding what lipstick Lewinsky was wearing during their conversation. Good Morning America revealed the shade was made by Club Monaco, a Toronto-founded clothing and cosmetic company, and it was called Glaze.
Within 24 hours of the announcement, according to the Philadelphia Daily News, the five Club Monaco stores in Manhattan, New York, completely sold out of the shade, with women in near hysterics over finding the small brand in their local boutiques across the country. The lipstick, which retailed for $13, was on backorder for weeks as women kept an eye on their high-end malls that stocked Club Monaco cosmetics. Sadly, the shade has been discontinued, but there are several active message boards discussing lipsticks that come close to the iconic rosy mauve. 
Margaret Thatcher's Purse 
Of all the women in the history of the world, Margaret Thatcher was not one of the most outwardly stylish. However, since her death in 2013, one thing in her style profile has stood out: her black leather purses.
In 2011, the Iron Lady's favorite Asprey pouch, which she had brought to meetings with President Ronald Reagan, went for a whopping $39,800 at Christie's. The sleek purse itself had become a symbol of her own tenacity and synonymous with her tough negotiating style, with one member of Britain's Parliament remarking in 1982, "She can't look at a British institution without hitting it with her handbag."
Immediately following her death, sales of the Iron Lady's favorite black and boxy styles from the brand Launer London — the "Bellini" and "Adagio" — increased by 53%. 
Kate Moss' Rain Boots  
Sure, Kate Moss is an internationally known supermodel and everything she wears gets attention. But, curiously enough, the moment that millions of women noticed was her most practical and relatively unstylish: trudging through mud at the Glastonbury music festival. 
In 2005, Moss donned a pair of sturdy Hunter boots to brave the English festival's less glamorous conditions (and repeated the action in 2008) — and the Internet went crazy. Although the Hunter brand has been around since 1856, Moss' style solution helped profits for the brand soar 38% in 2011. In 2011 in the U.K. alone, sales rose 53% for the classic brand, with an 11% rise in the U.S. and 66% in the rest of the world. She may have been at her least glamorous, but she definitely created a rage. 
Steve Jobs' Turtleneck
Before "uniform dressing" was cool, Apple CEO Steve Jobs was on it. As a tech empire unto himself, Jobs was never one to bring too much attention to his aesthetic leanings. However, as the aughts came to a close, the turtleneck came creeping back into fashion, so when Jobs died in 2011, some of his preferred styles, including black St. Croix, began to sell out. 
There's an irony there about how a man who relied on not thinking much about fashion became a fashion icon, but we wouldn't have it any other way. 
Wendy Davis' Sneakers 
On June 25, 2013, Senator Wendy Davis performed a 13-hour filibuster on the Texas State Senate floor to stop a proposal to ban abortions in the Lone Star state after 20 weeks of pregnancy. Full of conviction and determination, Davis' stance caused thousands of women to tune into the filibuster broadcast online. What they noticed was her tenacity — and her hot pink sneakers.
The sneakers became a signal for female strength, so obviously, women wanted them. Women wanted them bad. Fans of the sporty shoe got to sleuthing and found out that they were Mizuno Wave Rider 16 running shoes. Mere days after Davis' career-launching act, the shoes became the top-selling women's shoe in all categories on Amazon, with customers posting glowing reviews like "Guaranteed to outrun patriarchy on race day," and "Do you think a women's health is a matter for her and her doctor and not for aged religious fundamentalists? Then these are the shoes for you!"
The Ikea Monkey's Coat 
Of course this all ends with the Ikea Monkey. On a wintry day in December 2012, a tiny monkey in a double-breasted shearling coat waltzed into a Toronto Ikea and paused to look forlornly through a window. The Internet, of course, was delighted. Where did this baby monkey come from? Who was this stylish simian? Where did he get his itty bitty coat? 
Ikea Monkey was highlighted in "style news of the week" roundups, with Huffington Post Canada noting that "he leaves behind a legacy of memes and tweets from people who also appreciate a good shearling coat." Indeed. His retro chic look was literally lauded by fashionistas. "Can't wait to dish critique on that divine, Russian-inspired shearling coat," Canadian fashion journalist Jeanne Beker reportedly said. Although we don't know for sure whether the monkey had a real effect on coat sales, at year's end, the Guardian went so far as to hail him as one of 2012's top fashion icons on a list that included the likes of Rihanna and Iris Apfel. 
Sure, fashion is great when women like Halle Berry or Cate Blanchett absolutely slay on a red carpet. But isn't it just a little more satisfying when the fashion world takes notice of a stuffy politician or, really, a stylish simian?