Who Are the CBS News Debate Moderators? Complete Info on Saturday's Democratic 2015 Debate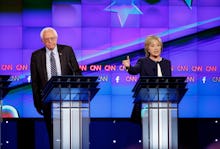 CBS News' Face The Nation anchor John Dickerson will moderate the second Democratic debate of the 2016 presidential election season, featuring former Secretary of State Hillary Clinton, Vermont Sen. Bernie Sanders and former Maryland Gov. Martin O'Malley. Dickerson will be joined by KCCI NewsChannel8 anchor Kevin Cooney, Des Moines Register political columnist Kathie Obradovich and CBS News congressional correspondent Nancy Cordes, Vox reports.
When asked what his goal is for the upcoming debate, Dickerson told CBS News, "To be a window. The voters should see the voters through our questions and I hopefully won't do anything to get in the way of that commerce."
The anchor, who also serves as CBS News' political director, has been covering politics in Washington, D.C., for over 20 years, according to his CBS News profile. Dickerson graduated from the University of Virginia and is the son of CBS News' first female correspondent, Nancy Dickerson.
Dickerson has interviewed each of the candidates taking to the podiums Saturday night on Face The Nation, sitting down with Clinton Sept. 20, Sanders on Sept. 27 and O'Malley in August. When asked what he's done to prepare for the debate, Dickerson told CBS News, "I've been doing interviews, reading, looking into their positions and looking back on some journalism that I've done over the years addressing these issues of what can we learn about candidates during debates."
The CBS Democratic presidential debate airs Saturday night at 9 p.m. Eastern on CBS. Mic is the exclusive online partner for the debate and will be live-streaming the event beginning at 6 p.m.