Congress Will Hold First Caucus Addressing Violence Against Transgender People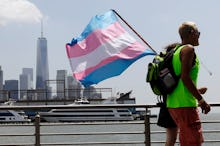 Activists will address a congressional caucus Tuesday to discuss violence in the transgender community, specifically violence against transgender women of color. 
The forum will take place on the same week as National Transgender Day of Remembrance, observed every year on Nov. 20. The day honors those transgender lives lost to violence in the past year. 
While the transgender community has enjoyed more mainstream visibility this year than ever before — Caitlyn Jenner, Laverne Cox and Amazon's Transparent are just three examples of gender nonconforming narratives dominating the media — critical and commercial success has not translated into safety or security. 
As Mic reported earlier this year, the Anti-Violence Project's 2014 Report on Lesbian, Gay, Bisexual, Transgender, Queer and HIV-Affected Hate Violence, found that at least 12 known transgender women were killed in last year. That number almost doubled in 2015 — there have been 21 reported killings so far, according to the group.
In fact, the first two months of 2015 saw news of one transgender woman murder every week. 
Activists hope this forum will inform Congress that violence against transgender people is not a matter of individual bias, but structural transphobia. 
"We need legislators to know that this is about more than people being transphobic," Chai Jindasurat, co-director of community organizing and public advocacy at the New York City Anti-Violence Project, told Mic. "It's about housing, poverty and the limited options that society provides trans women of color that puts them at risk for violence — things like shelter, jobs and access to public institutions will help transgender women of color.
"We really hope to have the legislators come out of the forum knowing that violence is not a single strategy issue. We cannot continue to focus on hate-crime legislation as the only solution to violence. Just because someone is prosecuted for a violent crime in Los Angeles, it will not prevent someone from being killed in Dallas a week later."
Jindasurat told Mic that while the White House has held forums to address transgender violence, he is especially excited to meet with legislators who can enact change through our laws. 
The Anti-Violence Project hopes Congress will pass legislation that bans discrimination against transgender people in school systems, housing and employment, Jindasurat said.
Rep. Mike Honda (D-Calif.), chair of the House Equality Caucus and grandfather to a transgender granddaughter, released a statement in anticipation of Tuesday's forum. 
"This week, as we seek to raise awareness of the issues facing the trans community, it is important to renew our commitment to help trans individuals be free of the fear of violence or bullying just for being who they are," he said in a statement to the Washington Post. 
According to the Washington Post, the caucus will also announce a Transgender Equality Task Force, which will be led by six openly gay representatives and will develop legislation to address inequality and violence against transgender Americans. 
"The LGBT movement has prioritized privileged issues like marriage, while [the National Coalition of Anti-Violence Programs] has been steadfastly documenting violence against LGBTQ people and prioritizing violence as the No. 1 issue that we should focus on," Jindasurat said. "The time has finally come where violence is a priority for the LGBT movement and this forum reflects that.
"We're very excited for the possibility for action to occur and to end violence against transgender people."