Who Is John Dickerson? A Guide to CBS Democratic Debate Moderator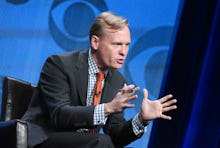 John Dickerson will be the main moderator for the CBS News Democratic presidential debate on Saturday, pushing former Secretary of State Hillary Clinton, Vermont Sen. Bernie Sanders and former Maryland Gov. Martin O'Malley on hot-button political issues in the second face-off between the candidates. Dickerson will be joined by three co-moderators. 
Dickerson, 47, hosts the CBS News political talk show Face the Nation and has served as the network's political director since 2011. He joined CBS as a part-time political contributor and analyst in 2009 while still serving as Slate's chief political correspondent. Dickerson remained in his position at Slate until he replaced Bob Schieffer as the host of Face the Nation in April.
He's still a regular contributor for Slate and visiting host on Political Gabfest, the publication's political roundtable podcast.
In an Oct. 30 Political Gabfest episode featuring Dickerson, the hosts discussed the third GOP debate and Jeb Bush's failing political campaign:
Source: Soundcloud
Before working for Slate and CBS, Dickerson was at Time for 12 years where he served as its White House correspondent for his last four years on the job, according to his CBS News biography.
Dickerson's mother, Nancy Dickerson, became the first female correspondent for CBS in 1960, TVNewser reported in 2009. During her time at CBS, Nancy Dickerson developed close relationships with Presidents John F. Kennedy, Lyndon B. Johnson and Richard Nixon, per the report. 
"I grew up hearing about CBS," Dickerson said upon signing with CBS, TVNewser reported. "When Mom started, she worked with Ed Murrow and Eric Sevareid and Don Hewitt. She revered them. That was the sort of water I grew up in."
Mic will live-stream Saturday night's debate in an exclusive online partnership with CBS. Catch live coverage of the debate, kicking off at 6 p.m. Eastern, here.