Jeezy 'Church in These Streets': Lyrics, Streaming and Download Options for New Album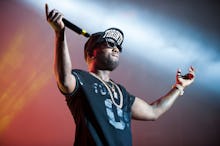 On Friday, American rapper Jay "Jeezy" Jenkins released his sixth studio album, Church in These Streets, which follows the prolific musician's 2014 release, Seen It All: The Autobiography. The 38-year-old, Atlanta-native's LP is streaming on Spotify and is available for download via Google Play for $6.99 and $8.99 via iTunes. 
The album, which comes comes via Def Jam Recordings, boasts 19 tracks. "Call me Pastor Young, I came to spread the word," Jeezy raps on the record's title track. "Spread the word like my partner spray them birds/ If you gettin' it how you live it, just say hallelu/ If you out here and you poppin', best to have your shooter/ I said it and I meant it so you know it deep/ I came to spread the word, it's church off in these streets."
Though not all of the tracks on Jeezy's latest are marked by a spiritual theme, religious lyricism seems to permeate much of the album. "I'm a God in the hood," Jeezy professes repeatedly on "God." "Lord knows, Lord knows, Lord knows/ They got me praying for these lost souls," the artist sing-speaks on "Lost Souls." "Mix it all up Avion and the Hennesesy/ Stay prayed up because the devil is the enemy," he adds on "Holy Water."
Two of the record's notable tracks, "Forgive Me" and "Sweet Life," feature appearances from American rapper Monica and recording artist Janelle Monáe, respectively. 
On Thursday, Jeezy performed at the Highline Ballroom in New York City, which marked the first of several performances the musician has on deck in support of his latest record. Per a press release, Chicago, Philadelphia, Los Angeles and Atlanta are among Jeezy's planned destinations. Here's a link to the artist's tour dates and ticket purchase options.