Margaret Cho's New Music Video Is an Epic Revenge Fantasy for Survivors of Sexual Assault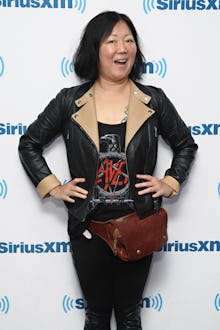 Margaret Cho doesn't hold her tongue, and she isn't about to start now. In a new music video, "I Want to Kill My Rapist," Cho presents a revenge fantasy narrative that gives even Quentin Tarantino a run for his money.  
Cho debuted the video earlier today on Perez Hilton. In it, she trains a group of assassins — women of many ages and racial backgrounds — to help her see out her revenge. 
In a car with her rapist locked in the trunk, Cho drives through tree-lined backstreets to an undisclosed location. 
Meanwhile, Cho's camp of black-clothed girls prepares to exact revenge on the man in Cho's trunk. Some girls learn how to crack a whip, one practices hand-to-hand combat and another gets to go full Katniss Everdeen on a dummy against a target. 
Before the revenge is enacted, Cho wakes up in her therapist's office, rises from his couch and drives away. 
Cho clarified that the violence, which she called "cathartic rage," is not gratuitous and has a real purpose — a very personal one. Cho is open about the sexual abuse she has faced in her own past. 
"I believe if you have been sexually abused, you must 'murder' your rapist in your mind," she told Perez Hilton. "Abuse leads to self abuse, drug addiction, depression, eating disorders, suicide. I want to kill it before it kills me."
Cho also praised her collaborators, including the young girls. "I can already see that kids are building a better world than the one we are currently in," she told Perez Hilton. 
Between this music video and her recent advocacy for sex workers, Margaret Cho is part of the crew that's building that better world, too.