Meet the Women Entrepreneurs Trying to Revolutionize How We Have Sex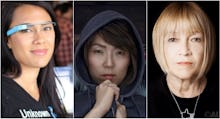 Jennifer McEwen was at a tech gala in Seattle when a male attendee asked her what her company does. She explained that her sex tech company, MiKandi, is a third-party Android app store that hosts adult content by artists, adult studios and game creators. The only difference, she recalled saying, "is that while the other app stores don't want adult content, we only want adult content.'"
The man pressed her for more information, which wasn't unusual: After all, most people haven't heard of a porn app store. But then his questions took a weird turn.
"OK, do you have child pornography?" he asked. "What about bestiality?"
"Um, no," she said, growing increasingly alarmed.
"Do you like to suck cock?" he asked in response.
McEwen was appalled. It was a level of harassment she had never faced in her many years working as a sex toy designer and as the co-founder of the Internet's only adult app store (NSFW). But she wasn't totally surprised.
McEwen is one of a growing number of women who are breaking down barriers as the heads of tech companies that deal with sex — and who, in their quest to revolutionize people's sex lives, are faced with sexism both blatant and much more subtle.
The rise of sex tech: "Sex tech" is such a new term with some disagreement about what it means. The category includes companies that are trying to disrupt a wide range of sex and dating-related spaces, from online dating to sex toys to porn, pushing us to re-examine both how we interact with each other and how we interact with our technology.
Cindy Gallop is the ultimate sex tech entrepreneur. With her blunt, blonde bob and her now famous utterance of the phrase "come on my face" six times during the TED Talk that launched her disruptive porn company, MakeLoveNotPorn (NSFW), Gallop is perhaps the most recognizable face in the sex tech world.
As she said in her TED Talk, she launched the company when she noticed that her lovers were clearly mimicking moves they'd seen in porn instead of focusing on being present with her while they were having sex. Her solution? A porn site that focuses on "real-world sex," which in this case means curated, user-submitted videos in which the couples are clearly not acting for a camera.
"It's no surprise that the most interesting things in sex tech are coming from female founders." 
Gallop told Mic that while being a woman founder of a sex tech company comes with its own set of challenges, "it's no surprise that the most interesting things in sex tech are coming from female founders." 
Right now, most executives in the tech industry are men — as Business Insider reports, women hold only 11% of leadership positions at Silicon Valley companies — and sex and love are traditionally thought of as female-oriented spaces.
Despite the fact she represents "the triple whammy of un-fundability: female, older and with a sex tech venture," Gallop absolutely believes that dealing with the trials and tribulations of being a sex tech founder makes her tougher and, ultimately, a better investment than her peers in the mainstream tech industry.
"The enormous irony is that every single thing that VCs and investors say they want to fund in an entrepreneur, sex tech entrepreneurs have that quadrupled," she said. "To even make a startup successful in sex tech, you have to be quadruply persistent, quadruply resilient, quadruply committed, quadruply determined, strong, brave and courageous. 
"Every goddamn investor should fund any sex tech entrepreneur with a bootstrapped venture that presents itself, because they have had to go through a shit ton of shit. That's what you should be funding. If you're looking for deal flow, sex tech is where it's at."
But investors aren't investing in female founders, in any sector of the tech industry. According to the Economist, a Babson College study found the number of female partners in American venture capital firms was only 6% in 2014. Another 2014 Babson study found that companies with a woman as CEO had gotten only "3% of total venture capital dollars in the previous two years."
Switching up the dating game: Susie Lee, like any startup founder, is tired of trying to fundraise and build her dating app, Siren. But she's also tired of the subtle sexism that has slowly been grinding away at her will to keep fighting for what she sees as a social good: changing the way that men and women meet and date.
"There are people who think when I was doing science, I was doing something really hardcore," Lee, who has a background in molecular biology, told Mic. "But no, actually. This is a really serious problem and it's a hard one to unravel."
The problem she's referring to is how women are constantly harassed by sexist trolls on online dating apps. To combat this issue, Siren lets women approach men, but not the other way around. On Siren, women's photos are blurred and the men can only see a "question of the day." The men give their answers to the questions and if a woman likes a particular guy's answers, she can choose to un-blur her photo for him. From there, users are encouraged to chat briefly and then meet up for a date.
Lee credits a combination of the blurred photos, the fact that only women are allowed to make the approach and the app's lack of photo messaging for the fact that they've had zero reported harassing messages in the year Siren has been live. But while Siren users are discovering that online dating can be so much more respectful than it has been, Lee has found the opposite to be true as a female founder of a sex tech company.
Lee discussed society's discomfort around women's desires. "I think that when you're in a 'soft' field like public relations or social networking or dating, you're dismissed as a woman doing another 'woman company' like makeup or shopping or fashion." Anything dealing with sexuality, she said, "is one layer further." 
Before convincing potential investors that her business is a good bet, Lee often has to prove that she's "a competent human being" and not just a "small, Asian woman who's doing another one of those dating apps." That means making a lot of changes in how she presents herself, both physically and in the attitude she exudes. 
"Not only are you trying to conform to a culture, but you're doing it in a way that has nothing to do with your leadership ability or business ability," Lee said. "I have to think about things like how to put my hair so it 'looks competent.' Especially in the tech world, where a guy can come in in his hoodie and T-shirt — there's no way I ever felt like I could do something like that."
But times are changing: Lee, McEwen and Gallop are not only challenging the status quo by being powerful women in tech, but are also striving to revolutionize our sex lives. And while they've all faced challenges unique to being women in sex tech, there are signs things may be starting to get easier.
For example, the sex toy company Crave raised $2.5 million in funding in September 2013. Co-founded by designer Ti Chang, Crave's sex toys are different from what has traditionally been offered up to the market. Chang focuses on high-quality design. One of her most popular products is the Vesper, which is so subtle and lovely that it can double as a piece of high-end jewelry. 
Chang told Mic that one of the reasons she has been able to raise funds for her sex tech venture where other companies have failed is because sex toys, unlike adult app stores and disruptive internet porn companies, have been around for a long time. Their transformation, over the past couple of decades, from a dirty little secret that you hide in the bedside drawer to sex toys so lovely you wear them as a necklace bodes well for other sex tech companies as they struggle to raise money and reach a mainstream audience. 
Sex tech entrepreneurs are also hopeful that the changes they're trying to introduce won't just reinvigorate the tech world but also the way we relate to each other in the culture at large. With women like Gallop, Lee and McEwen leading the way, we might be closer to seeing a dating world where women feel free to approach men, where porn looks more like real-world sex, and where no one ever asks "Do you suck cock?" at a networking event again.