13-Year-Old Hallie Turner Files North Carolina Climate Change Lawsuit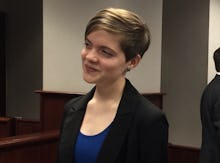 Make way for Generation Z. 
Thirteen-year-old Hallie Turner of Raleigh, North Carolina, is filing a lawsuit against her home state, Al Jazeera reported Friday. The suit demands the state adhere to 4% annual deductions in carbon dioxide emissions.
"I was [in] about third or fourth grade when the issue of climate change just came up at a dinner table conversation, and I had never really heard about it and I wanted to find out more about it," Turner told a local news reporter in a video posted Friday to Twitter. "I read Al Gore's book, An Inconvenient Truth, and that just insanely inspired me and opened my eyes to how big of an issue it was, and immediately after reading that I was amazed at how apathetic people were towards the issue."
Turner and her lawyer filed a lawsuit after North Carolina dismissed a 2014 petition she put together with a nonprofit organization, which calls on the state to limit its emissions based on the most recent scientific findings that reveal the human impact on climate change. 
"Hallie has been involved in climate action since the fourth grade," the petition reads. "She has attended rallies and marches in Washington, D.C. and has spoken at several events, including the Climate Convergence on Raleigh in 2013 and the NC League of Conservation Voters Green Tie Awards Dinner in 2014. In addition, Hallie loves reading, writing, art and spending time with her friends."
President Barack Obama's plan, laid out in August, should reduce emissions by 32% within 15 years. North Carolina Gov. Pat McCrory, however, said in a statement that the measure will hurt the local economy by raising energy costs and cutting job growth. U.S. utility company Duke Energy claims it has reduced emissions by 22% since 2005, though that remains far below the 4% rate Turner thinks her state should mandate. 
Turner is being assisted in her appeal to the courts by the Oregon-based climate change organization Our Children's Trust.