Thanks to Technology, Sweaty People Are Finally Getting the Clothing They Deserve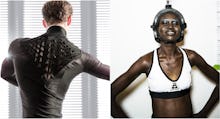 Some might think summer, when the sun's powerful rays bear down on us, is the problem. But for chronically sweaty people, staying dry is a Herculean accomplishment pretty much all year round. Our fear of #pitstains is so pronounced, we cringe at the thought of white T-shirts. Our commitment to dressing in layers is unmatched.
Save for moisture-wicking gym clothes, fashion has largely ignored the problem of sweat. That is, until now. 
Designers and clothing brands are finally addressing the most basic of human problems by partnering with tech-based companies to design clothes that account for sweat. Basically, if you're a sweaty human, now is a pretty good time to be alive, and not just because it's winter. 
Here's a look at the most exciting innovations underway to solve our sweaty-people problems. 
MIT is developing fabric with tiny vents that open and close, with the help of living bacteria.
Researchers at the Massachusetts Institute of Technology have partnered with New Balance and the Royal College of Art on bioLogic, a project using microorganisms first discovered a millennium ago in Japan, according to the company. 
The bacteria has long been used as a fermenting tool for a Japanese dish, but researchers recently discovered that changes in the atmosphere cause the microorganisms to contract and expand. MIT's Tangible Media Group is working on material that incorporates the bacteria with tiny cut-out slits, so the fabric can open and close according to humidity levels. If you sweat, the vents open and allow for proper air flow, allowing you to cool naturally. 
The project is still ongoing, though the group hopes the technology will be used in future New Balance clothing. 
This bra can sense when your body temperature is rising and cool you down.
Finding the perfect bra is an elusive quest. Wrong size, wrong cup shape, wrong material — add the fear of dreaded boob sweat, and it's pretty much a nightmare. 
But new technology is taking aim at boob sweat. In September during New York Fashion Week, designer label Chromat partnered with Intel to create a sports bra with tiny vents that open and close. The bra does this with the help of Intel Curie, a tiny piece of hardware that senses your levels of perspiration, rate of breathing and body temperature, according to Engadget. A bra that adjusts according to the temperature needs of the person wearing it? Genius.
(The motor is currently awaiting approval from the Federal Communications Commission.)
Another company giving us a hand with boob sweat is Knix Wear, a Canadian company that aims to up the ante on bras and panties with a function-first mentality. The fabric uses what Knix calls "FreshFix Air Technology" that makes it moisture-wicking, odor-killing and anti-microbial (lest we need remind you of how awfully dirty our bras can get).  
"We have created a product that women have been waiting for," Knix Wear founder Joanna Griffiths told Mashable. "The bra, like its construction, is a chameleon: part fashion, part function, part everyday, part sports bra."
These workout clothes actually trap your sweat to cool you down.
In 2013, Columbia Sportswear introduced its "Omni-Freeze Zero" technology, which works by using a person's very own sweat to keep them cool. Thousands of tiny blue rings are embedded into the fabric that trap sweat and expand for a cooling effect, Andy Nordhoff, a company representative for Columbia, told Mic.
"Since it's a visible technology ... a lot of people kind of intuitively understood it," Nordhoff said. "Like, 'Oh, these little blue rings are going to help keep me cool in really hot and muggy weather.'"
The technology was a dramatic departure from traditional sports clothing that wicks away moisture, according to online innovation source PSFK and instead uses athletes' sweat to cool them down. The Omni-Freeze Zero clothing collection has since expanded from a handful of basic shirts to more clothing items, like arm sleeves and hats.
"I think everyone wants to be more comfortable, whatever they're doing," he said. "And that's really where these new technologies come into play."
"Period clothing" is raising the bar for moisture-wicking clothes.
A new generation of entrepreneurs is working to transform the clothing options available to those who menstruate, and part of that transformation includes moisture-wicking properties in undies and pants.
Dish and Duer has set out to make the perfect pair of pants that are comfortable and appropriate for professional and casual settings. Its design blends four different types of fabrics, for pants that are absorbent, anti-bacterial, odor-resistant, quick-drying and comfortable. Oh, and they're stretchy too. 
"If you have the option, I would rather be comfortable," Jessica Marren, Dish and Duer's marketing coordinator, previously told Mic. "Comfort is so important, and confidence too in what you're wearing."
Other developments, like Thinx's underwear, contain moisture-wicking and anti-microbial fabrics. The designs are meant to hold up to two tampon's worth of liquid and prevent any possible leakage, according to the company. When Mic checked in with the company's founders three months after the product's launch, sales were booming.
"We're now doing weekly orders from the manufacturing facility just because we're trying to keep up with the demand," Miki Agrawal, CEO of Thinx, previously told Mic.
Most of these companies are still in early stages, but one thing is for sure: Nobody likes sweat. Fashion, along with the help of new technology, might just make sweaty clothing a thing of the past. Our pits and underboobs thank them.