Miley Cyrus Goes NSFW With Nude Photo Shoot for 'Candy' Magazine. Here Are the Photos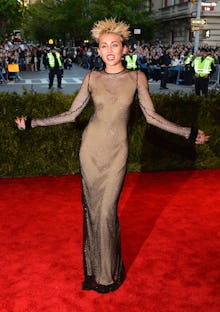 Miley Cyrus is revealing her full body, smoking weed and showing off sex toys in the latest issue of Candy magazine. The photos of the 22-year-old pop star were for the magazine's limited edition issue and were shot by photographer Terry Richardson. The issue includes shots of Cyrus sucking on a police officer baton, licking a black dildo and giving full frontal body shots of her armpit hair, tattoos and boobs. 
"Fuck yeah Candy Mag!!!" Cyrus wrote on Instagram Friday. "Limited edition available in 9 different covers next weeeeeeeeeek!!
The photoshoot was shot by Richardson, a consistently controversial photographer to celebrities who continues to make headlines for his photos and reports of alleged sexual molestation from a number of models.
Warning: the following photos are definitely NSFW. Then again, fans of Cyrus — and anyone who hasn't been sleeping under a rock since the singer's departure from Disney Channel and transformation into America's wild child — shouldn't expect anything less. 
Although the photos aren't typical of your everyday fashion magazine, it's the standard at Candy. The publication writes on its site Candy "is the first fashion magazine completely dedicated to celebrating transvestism, transexuality, crossdressing and androgyny in all their glory."
Cyrus opened up about her sexuality in August, telling Elle U.K. she considers herself to be pansexual. "But I'm not in a relationship," Cyrus told Elle. "I'm 22, I'm going on dates, but I change my style every two weeks, let alone who I'm with." It's also not the first time Cyrus has opted to shed some skin for a magazine photoshoot. The artist FaceTimed herself masturbating for the cover of Interview Magazine, during their September #MeCampaign issue.
Check out the photos, shared by Twitter users Friday, below:
Check out Candy magazine to see more photos from Miley Cyrus' shoot with Terry Richardson.