2015 CBS Democratic Debate: Full Recap and Highlights From Saturday's Debate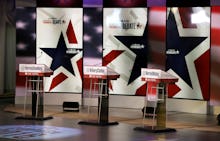 CBS News is hosting the second Democratic presidential primary debate, a face-off among the three remaining candidates competing in the race for the Democratic nomination. Former Secretary of State Hillary Clinton, Vermont Sen. Bernie Sanders and former Maryland Gov. Martin O'Malley are onstage at Drake University in Des Moines, Iowa. The main event began at 9 p.m. Eastern.
Through an exclusive digital partnership with CBS News, Mic is live-streaming the night's events as they unfold.
CBS' Face the Nation anchor John Dickerson is moderating the debate. He's joined by CBS News correspondent Nancy Cordes; Kevin Cooney of KCCI, the local CBS affiliate; and Des Moines Register columnist Kathie Obradovich. 
Speaking to CBS News in a pre-debate interview Friday, Dickerson said Clinton had the most riding on Saturday's debate. "They all have something at stake, but Hillary has the most at stake because she is the one who is farthest ahead," Dickerson said.
The pre-debate competitive landscape: The pool of candidates has diminished by two since last the Democratic presidential hopefuls met in October in Las Vegas.
Former Virginia Sen. Jim Webb announced his withdrawal from the race Oct. 20, and former Rhode Island Gov. Lincoln Chafee withdrew three days later. Vice President Joe Biden, who was rumored to be a late-stage addition to the Democratic pool of candidates, said in late October that he was out of "the time necessary to mount a winning campaign for the nomination."
Heading into the presidential showdown, Clinton was the leading candidate, polling at 53%, according to a poll by the New York Times and CBS News. According to the survey, Sanders holds 33% of Democratic primary voters' favor. Keep in mind, the average of Democratic primary polls from the Huffington Post puts Clinton polling at 56.1%, Sanders polling at 31.7% and O'Malley at 2.6%. 
Disaster overseas: Considering the deadly terror attacks that have recently rocked both Paris and Beirut, foreign policy and national security will be a key issue in Saturday night's debate. Clinton has ample experience in the area of foreign policy, both as secretary of state and as a senator. In the hours before the debate began, Sanders made it known that he had little interest in shifting the focus of the debate. 
Paris suffered a series of coordinated attacks on Friday at Stade de France, cafés in the 10th arrondissement and at a music venue that left 129 dead and 352 wounded. On Saturday, the Islamic State group claimed responsibility for the deadly attacks. President Barak Obama called the affront "an outrageous attempt to terrorize innocent civilians," and French President Françoise Holland declared a state of emergency, closed France's borders and vowed to strike back, the New York Times reports.
Mic will update this post throughout the debate.
Veering into the realm of socialism early on, Sanders underlined his platform to focus on America's middle class.
"In the last 30 years, there has been a massive redistribution of wealth, the problem is this distribution has gone in the wrong direction," Sanders said, calling for an end to the "corporate loopholes" he said help large corporations get wealthier.
But how high would Sanders go on implementing a corporate tax? Not as high as the country saw under Dwight D. Eisenhower, he said, which was around 90%. "I'm not that much of a socialist compared to Eisenhower," Sanders said.
The candidates weigh in on foreign policy and national security: As predicted, the candidates were pressed on ISIS early on in the debate, and were asked specifically if the Obama administration has underestimated the group. Though Clinton, O'Malley and Sanders largely side-stepped the question and deferred on any alleged failings of the Obama administration to terrorist threats, the candidates generally agreed that the battle against ISIS cannot be America's alone to wage.
Clinton detailed a number of prescriptive measures that include boosting international diplomacy, summoning leadership resources and development aid and increasing information transparency between nations worldwide.
O'Malley agreed saying that one of the U.S.' roles in the world is to confront evil when it rises, and that the battle against ISIS "is America's fight," but added that the weighty fight should not be solely America's to bear.
"The bulk of the responsibility is not ours," said Sanders, weighing in on the topic of foreign policy and national security. Sanders then drew a direct connection between climate change and terrorism. "Climate change is directly related to the growth of terrorism," he said.
Border control: On the international refugee crisis, Clinton emphasized the U.S.' responsibility to offer refuge to those displaced by conflict overseas, but only if America can create a careful vetting process to screen refugees.
"I do not want us in any way to inadvertently allow people who wish us harm to come into this country," she said. Clinton then pointed to a dire need to re-evaluate the defense budget, signaling ongoing challenges abroad and using issues in the South China Sea and problems with Russia as examples. "We've got to look at the full range and them come to some smart decisions," she said.
Unlike business tycoon Donald Trump, who O'Malley called an "immigrant-bashing carnival barker," the former Maryland governor argued for comprehensive immigration reform with a path toward citizenship for illegal immigrants who, he argued, are a major value add to America's economy.
For the 11 million people who have been in the U.S. for decades without earning citizenship, Clinton also argued for a future that should allow illegal immigrants to come out of the shadows.
Gun control: When the loaded topic of gun control was raised, O'Malley took aim at Clinton. O'Malley accused Clinton of flip flopping throughout her political career on whether or not America needs gun regulation on the federal level.
But Clinton stuck to her pro-gun control agenda, emphasizing that since the Democratic candidates last debated in Las Vegas in October, 21 mass shootings have erupted across the nation, including one last week in Des Moines, Iowa. "This is an emergency," Clinton said, arguing for a need "to go after the gun lobby" and pointing out that 92% of Americans approve of background checks.
In turn, Sanders took aim at O'Malley. "I think it's fair to say that Baltimore is not now one of the safest cities in America," he said, while fielding questions from moderators on his gun control voting history, particularly his vote against passing legislation that would ban assault weapons.
Race relations: When pressed on issues of racial injustices in the U.S., O'Malley said that conflicts involving race in America are intrinsically tied to issues of public safety, and ultimately argued that "black lives matter" above all.
Citing statistics about the high probability black males in America face of ending up in the criminal justice system, and the $80 billion price tag that comes with incarceration in the U.S., Sanders called for judicial reform, for increasing the accountability of police officers who use excessive force and argued for the decriminalization of marijuana.
Adding to the discussion, Clinton said that the recent uprisings surrounding racial injustices on college campuses across the nation "reflects the deep sense of concern, even despair" that young people, particularly of color, face in America.
In closing: O'Malley called on Americans to "act on principles" in order to construct a new foreign policy plan based on engagement and to do a better job of identifying threats at their roots.
Clinton added that America's next president should think about "everything she can do" to lift the country up, and that evening the odds should be a top priority.
Sanders closed by once again hitting on income inequality and America's inability to guarantee health care to all of its citizens. "That's not the America I think we should be," Sanders said,  calling on voters to "Get up, turn off the TV" and rally behind what he sees as a vital "political revolution."
While a clear winner of the debate was not immediately evident, Clinton dominated the conversation on Twitter during the evening, according to CBSN's data. 
Nov. 14, 2015. 11:35 p.m. Eastern: This story has been updated.