The Supreme Court Will Review Texas' Law Restricting Abortion Access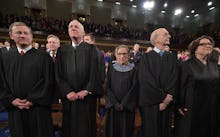 On Friday, the Supreme Court agreed to review a Texas law that could force more than three-quarters of the state's abortion clinics to close. The case could have broader implications for the many states that have seen increased abortion bans in recent years.
The law at issue was passed in 2013 and included stringent requirements for abortion providers. As a result, the number of clinics providing abortions in the state has dropped from 42 to 19, according to NBC News. Parts of the law were set to go into effect on July 1, but last year a group of abortion providers sued and successfully blocked its implementation. In June, the Supreme Court ruled that clinics could remain open during the appeal process.
If upheld, Planned Parenthood says the decision would leave 5.4 million Texan women of reproductive age with only 10 abortion providers in their state.
"If the court allows this clinic shutdown law to stand, it would essentially take many women back to a time before abortion was legal," Planned Parenthood president Cecile Richards said in an emailed statement. "Texas paints a devastating picture of what's at stake for women across the country — where women are already traveling hundreds of miles, crossing state lines, and waiting weeks to get an abortion, if they can at all. "
This decreased access would be especially detrimental to already marginalized groups and those with limited economic resources. Forty-two percent of the women who have abortions fall below the federal poverty line, according to the Guttmacher Institute. Denying women abortion access only increases the risk of falling into poverty, ThinkProgress reported in 2012.
In Texas, lack of access to abortion providers disproportionately affects Latina women, according to Jessica González-Rojas, executive director of the National Latina Institute for Reproductive Health.
"While this politically-motivated attack threatens all Texas women, it's particularly harmful for the 40% of Texas women who are Latina," González-Rojas said in an emailed statement. "Latinas are twice as likely to experience unintended pregnancies as non-Latina white women and are more likely to be of reproductive age."
This particular case has implications for women across the United States, according to Ilyse Hogue, president of NARAL Pro-Choice America.
"The Court now has the opportunity to decide whether we will continue to allow elected officials to play politics with women's health," Hogue said in a statement. "This case represents the greatest threat to women's reproductive freedom since the Supreme Court decided Roe vs. Wade over 40 years ago."
The Guttmacher Institute estimates that 1 in 3 women will have an abortion in her lifetime. Lawmakers have passed a record-breaking 231 abortion restriction laws in the last four years, and more than 100 anti-abortion bills have been introduced in 28 state legislatures so far this year.
But this case could be a turning point. As Richards put it, "A woman's very right to make personal medical decisions about abortion is now before the court."
h/t NBC News