Paris Attacks Leave at Least 129 Dead, Including 80+ at Bataclan Theater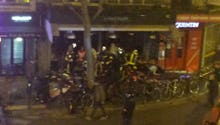 French officials said at least 129 people were killed and hundreds were wounded in a series of coordinated attacks at six locations in Paris, including shootings at several restaurants and cafes in the city Friday night, according to Le Monde. At least 89 people were killed inside Paris' Le Bataclan music hall after terrorists stormed the theater, taking concert goers hostage and systematically killing them. At least 40 other people died in attacks throughout the city. 
A shooting occurred at the Le Petit Cambodge restaurant in the city's 10th district. At the same time there were reports of an explosion at a bar near Stade de France. An explosion could be heard clearly during the soccer match between France and Germany. 
"Everyone was outside on the terrace of the restaurant when all of a sudden we saw these masked men start firing in all directions," a witness outside the Le Petit Cambodge restaurant told the BBC. "It felt like it lasted a long time."
Another shooting erupted a few minutes later near the Bataclan club, according to Liberation, which is reporting live from the scene. Three explosions were heard simultaneously, Liberation reported. 
A group of foreign students who were at the Carillon bar, where another shooting occurred, during the attack told Liberation afterward they first saw "one or two cars" approach before shots fired.
Another witness told Liberation that someone shouted "Allah Akbar" before opening fire in the street outside of the bar. The attackers then entered the bar and began firing at the people of the bar, according to the witness account. The foreign student told Liberation he witnessed his friend die in front of him, another friend shot in the leg and another in the back.
It was unclear at first how the incidents were related. 
Law enforcement and ambulances were on the scene at the restaurant. Bars and restaurants in the area around the restaurant were reportedly cordoned off, according to the Telegraph. 
Some eyewitnesses reported seeing bodies on the street near the restaurant. 
According to the Agence France-Presse, hostages were taken at Bataclan concert hall near the restaurant where the shooting occurred.
French President François Hollande was reportedly evacuated from the Stade de France.
President Barack Obama made a statement from the White House Friday night to underscore the United State's support for France and to condemn the people involved in the terrorist attacks. "France is our oldest ally," Obama said from the White House. "French people have stood shoulder to shoulder with the United States time and time again. Paris itself represents the timeless values of human progress. Those who think they can terrorize the people of France or the values they stand for are wrong." 
French President François Hollande, speaking in Paris, said France was taking measures to ensure the city's safety. 
Nov. 14, 2015, 1:32 p.m. Eastern: This story has been updated.