Parisians Use Hashtag #PorteOuverte, "Open Door," for Those Seeking Shelter Amid Attacks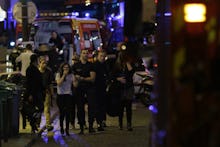 In the midst of a series of alleged terrorist attacks in Paris on Friday night that have left at least 129 dead and more than 350 wounded, some Twitter users in the city immediately began using the hashtag #PorteOuverte, or "open door," to offer their homes as shelter for those afraid to be on the streets with nowhere to go.
Social media users were tweeting invitations to their homes for those who might "need help" or a "place to sleep." Those offering said they would provide their address to those interested through direct messages. Others included their addresses in the tweets. 
Read the tweets here or read some examples below: 
A series of attacks Friday night took place at multiple restaurants and bars in the city. A hostage situation taking place at the Bataclan theater, where the American rock band Eagles of Death Metal were performing, led to more than 100 people being held hostage and 89 killed. An explosion occurred at the Stade de France during the France vs. Germany soccer game. 
The death toll is currently at least 129 people, according to Le Monde.
Nov. 14, 2015, 1:42 p.m. Eastern: This story has been updated.