Here's What We Know About the Paris Hostage Situation at Bataclan Theater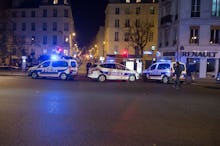 Authorities have rushed the Bataclan concert hall in Paris after terrorists carrying assault rifles took dozens, possibly hundreds, of people hostage amid a series of attacks in the city Friday, Parisian officials have confirmed to the Associated Press. Several ambulances and law enforcement were seen outside the theater, where American rock band Eagles of Death Metal was playing, according to the BBC. 
The siege reportedly ended and two gunmen were killed. Officials said Friday that at least 80 people were killed inside the concert venue and that they expected the death toll to continue rising. On Saturday afternoon, Paris public prosecutor François Molins said 89 people died at the Bataclan while "many more" were injured.
At least six to eight armed men stormed the Bataclan theater Friday night and were "going through the concert venue looking for people who might be hiding," according to eyewitnesses who spoke with CNN. Many concert-goers have presumably been killed.
According to CNN and unverified social media posts from people reportedly in the theater, the gunmen were going "one by one" systematically killing concert-goers. 
A Facebook user by the name Benjamin Cazenoves, who said he was in the concert hall but presumably got out, described the theater as scene as "carnage" and that "dead bodies everywhere."
"It looked like a battlefield, there was blood everywhere, there were bodies everywhere," Marc Coupris, 57, who was freed from the Bataclan concert hall, told the Guardian. He continued: 
I was at the far side of the hall when shooting began. There seemed to be at least two gunmen. They shot from the balcony. Everyone scrabbled to the ground. I was on the ground with a man on top of me and another one beside me up against a wall. We just stayed still like that. At first we kept quiet. I don't know how long we stayed like that, it seemed like an eternity. I saw my last final unfurl before me, I thought this was the end. I thought I'm finished, I'm finished. I was terrified. We must all have thought the same. Eventually, when a few gendarmes came in slowly we began to look up and there was blood absolutely everywhere. The police told us to run.
According to the Eagles of Death Metal's official Twitter account, the whereabouts and safety of the band were still unknown. 
At least 129 people have been killed in the series of attacks that included shootings at several restaurants and cafes in Paris' 10th district. Several explosions were reported outside the Stade de France, where a soccer match between France and Germany was taking place. 
One Paris resident whose apartment was located near the Bataclan theater was tweeting about the hostage ongoing hostage situation: 
Nov. 14, 2015, 1:45 p.m. Eastern: This story has been updated.