These Powerful Drawings Pay Tribute to Paris and Its Victims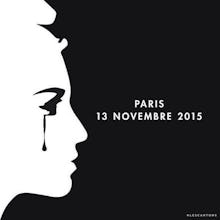 A series of coordinated attacks devastated Paris on Friday night, leaving more than 120 people dead, with dozens reportedly in critical condition and more than 350 wounded. It is being described as the worst attack on France since World War II. ISIS has claimed responsibility for the attacks.
Consumed with shock and grief, people around the world are honoring the fallen and displaying solidarity by flying French flags and lighting up famous monuments and buildings in the flag's colors.  
And, in a similar vein to how many responded to the Charlie Hebdo attacks, powerful cartoons and drawings expressing resilience and unity are going viral on social media.
Most notable is this simple peace sign with the Eiffel Tower in it, reportedly created by French designer Jean Jullien. It's been retweeted more than 40,000 times and has since inspired a few spinoffs.
This "Pray for Paris" image is everywhere:
Meanwhile, a cartoon by artist Joann Sfar pleads for secular support:
And this simple drawing, which simply translates as "love overcomes":
French President François Hollande described the attacks as an "act of war," reported the New York Times, and the country is under a state of emergency for the first time since 1944.
World leaders, including President Barack Obama, have offered their countries' support and help in any capacity. 
"This is an attack not just on Paris, it's an attack not just on the people of France, but this is an attack on all of humanity and the universal values that we share," Obama said Friday night. "We stand prepared and ready to provide whatever assistance that the government and the people of France need to respond."
"The is a heartbreaking situation," he added.
Nov. 14, 2015. 2:03 p.m. Eastern: This story has been updated.