Charlie Hebdo Hero Among the First Responders to Paris Attack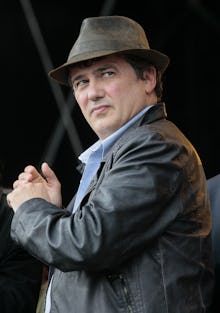 Dr. Patrick Pelloux, a former journalist and survivor of the January terrorist attacks on Charlie Hebdo, was among the first on the scene Friday night to respond to a series of coordinated terrorist attacks that rocked central Paris. 
Pelloux, who previously worked as an emergency room physician, told the French paper L'Express that after the carnage unfolded, he spent the evening at the office of French emergency medical services, known as Samu à réguler, treating the injured.
"The Samu, the hospitals, their staff, the firefighters, the police, we are doing everything we can to save them," Pelloux said in a tweet. "This is a war massacre." 
In an interview with L'express, Pelloux, who is known on the political left, called for a national response and for the French police and army to take all appropriate measures.
"We need an answer that is proportional to the situation," Pelloux told the paper. "We need to give means to the police and the army so they can defend us. Some people necessarily knew about this project or know the people who are responsible, they have to talk. This information is essential to neutralize the terrorists."
Online, people offered effusive praise:
"The entire country is with you. Thank you."
"You don't deserve this, not another time... Courage for this long night helping the injured #respect"
The Islamic State group, also known as ISIS, has taken responsibility for the attacks that have, so far, left at least 129 dead. The coordinated shootings broke out at several points around Paris on Friday evening, with the main carnage unfolding at in the city's historic Bataclan concert hall. 
Reports from survivors indicate that several men shouting "Allahu Akbar" or "God is great" in Arabic, stormed the venue during a performance by the band Eagles of Death Metal. They fired for several minutes from Kalashnikov AK-47 assault rifles and also threw grenades into the crowd. Seven of the attackers were killed after blowing themselves up in suicide bombings. The eighth was shot dead by police. 
"I pay homage to the country's defenders who fought the terrorists yesterday," French president François Hollande said in a statement, the Guardian reported. "In this most serious and uncertain time, I call for unity and courage."
Nov. 14, 2015. 1:58 p.m. Eastern: This story has been updated.